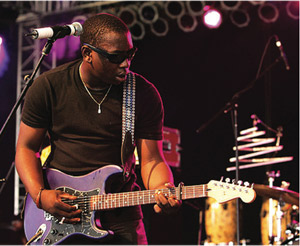 The Center for the Art of Performance at University of California, Los Angeles (UCLA) will present "A Tribute to Ali Farka Touré" Friday, February 1 at 8:00 p.m. at UCLA's Royce Hall. The show features Ali Farka Touré's son Vieux Farka Touré, who has become a renowned guitar player. Opening the concert is Los Angeles band Fool's Good that blends Western pop aesthetics with African rhythms and melodies.
Vieux Farka Touré's self-titled debut album, Vieux Farka Toure, was released in 2007, featuring several tracks recorded with Ali Farka Touré, which were among his final recordings. Vieux pays homage to his father and follows Ali's musical tradition, exploring the connections between the haunting sounds of the West African desert and the history of American blues. With his third album, 2011's "The Secret," Vieux Farka Touré revealed himself to be a brilliant songwriter and arranger. Backed by a high-energy band, Vieux is a skillful and charismatic guitarist.
Los Angeles-based collective Fool's Gold was founded by Lewis Pesacov and Luke Top, with various members at times ranging between 12-15 performers. After their self-titled debut release in 2009, and subsequent tours, the group eventually evolded into the tight-knit, five-member band it is today, featuring vocalist and bassist Luke Top, guitarist Lewis Pesacov, drummer Garrett Ray, multi-instrumentalist Brad Caulkins, and percussionist Salvador Placencia. Their musical style is built on soulful vocals, evocative lyrics, driving beats, tightly wound percussion, and warm synthesizers, all bound together with interlocking, nimble slashing guitar lines.
Tickets ($20-$50) are now available via cap.ucla.edu, Ticketmaster or at the UCLA Central Ticket Office.
Author:
World Music Central News Department
World music news from the editors at World Music Central