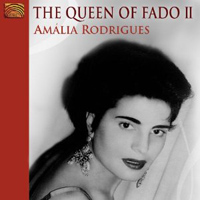 Amalia Rodrigues – The Queen of Fado II (ARC Music, 2012)
Maria Ana Bobone – Fado & Piano (ARC Music, 2013)
There are two luscious recordings out on the ARC Music label that will stun all the fado fans out there, The Queen of Fado II by Amalia Rodrigues and Maria Ana Bonbone's Fado & Piano. Despite two very distinctive singing styles and approaches to the fado, both Ms. Rodrigues and Ms. Bonbone capture the emotional heart of this rich genre. While scholars may argue about the origins and the time frame in which the fado emerged on the streets and in the clubs and concert halls of Portugal, the searing sentiment of the fado has endured and flowered into a much beloved song form.
ARC Music expertly revives the poignant soulfulness of a golden age of fado and tantalizes with a look into the future of fado in these two separate recordings; although, listening to them in tandem gives the listener a real sense of fado's form and colors. Whether you chose one recording over another is simply a matter of taste as the offerings are lush and spectacularly recorded and presented.
Just on the barest listen there can be no doubt that Amalia Rodrigues was indeed the Queen of the Fado and this second offering of Ms. Rodrigues's work from ARC Music proves the point emphatically with 16 charmingly wrought tracks from the famed Portuguese singer. Tracks like "Eu Queiria Cantar Te Um Fado," "Malmequer Pequenino" and "Tudo Isto E Fado" seem circle hauntingly in the air as Ms. Rodrigues's lovely vocals dip and soar with achingly poignant internal sorrow.
Amid such sweet sorrow, tracks like "La Cama de Piedra" possess fierceness and proves the real vocal power of Amalia Rodrigues. Backed mostly by Portuguese guitar and guitar, the compositions aren't spare but cleanly wrought, keeping the vocals and lyrics center stage. ""Conta Errada" and "Fui Ao Baile" prove the exceptions with backing by the Joao Nobre's Orchestra and the Fernando de Cavalho Orchestra respectively. For old fado fans or newbies, The Queen of Fado II is recording to revive that old love for the fado or kindle a new one.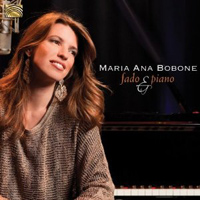 Equally wonderful is Maria Ana Bobone's Fado & Piano. Possessing a sleeker singing style without a good deal of trills as Ms. Rodrigues, Ms. Bobone is no less dazzling with her crystalline voice. Ms. Bonbone also can also shines with piano, percussion, guitar, keyboards and composition credits on Fado & Piano. Avoiding the strict traditional route, Ms. Bobone steps out on her own with tracks like ""Auto-retrato"and "Imagem."
She describes how "Imagem" came about this way, "I wrote this song when I was eighteen, I was always very, very shy to show [my songs to people]. This one I wasn't supposed to show – it was something that just came to me. It's out of the fado language … but because it shows a little bit more of me I decided to include it in this project. Rodrigo (Serrao, the album's producer) wrote the words for it – he's always trying to pull me out of my shell and making me expose parts of me."
Overflowing with plummy tracks like "Que Deus Me Perdoe," "Melancolia" and "Ria Claridade," Fado & Piano brims over with a sensual grace. Tracks like "Namorica da Rita" and "Fado XuXu" are simply delightful with Ms. Bobone's positively effervescent vocals. With previous recordings like Senhora De Lapa, Luz Destino and Fado Today: Maria Ana Bobone – Misia to her credit, Ms. Bobone offers a fresh take on the fado with Fado & Piano that is as rich and as enchanting as Ms. Rodrigues.
Ms. Bobone explains Fado & Piano, "This is a special album for me because it gave me a chance to grow. Revisiting my cultural roots from a new point of view, writing my own songs and working with different tools to enrich my work, always working towards the goal of exploring my own identity as an artist."
Buy The Queen of Fado II and Fado & Piano
Author:
TJ Nelson
TJ Nelson is a regular CD reviewer and editor at World Music Central. She is also a fiction writer. Check out her latest book, Chasing Athena's Shadow.
Set in Pineboro, North Carolina, Chasing Athena's Shadow follows the adventures of Grace, an adult literacy teacher, as she seeks to solve a long forgotten family mystery. Her charmingly dysfunctional family is of little help in her quest. Along with her best friends, an attractive Mexican teacher and an amiable gay chef, Grace must find the one fading memory that holds the key to why Grace's great-grandmother, Athena, shot her husband on the courthouse steps in 1931.
Traversing the line between the Old South and New South, Grace will have to dig into the past to uncover Athena's true crime.