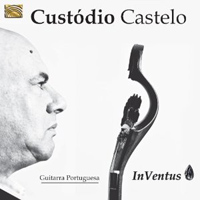 Custodio Castelo
InVentus (Arc Music EUCD2616, 2012)
Django-esque, but with more gypsy and less jazz. Has it some distinctively "Portuguese" element or elements? Yes, it does have a sort of stuck-in-the-past Moorish Sun Belt ambiance when one thinks about it, but this is not music for thinking about. Custódio Castelo is not only the world's leading player of the Portuguese fado guitar, but also a great composer of the sort that does all the thinking about the music for you. It is cerebral, even a bit of a challenge to follow in its intricacy at times, but it is for feeling, not thinking.
It is also powerful. InVentus purchasers will not only find themselves programming their ring tones and alarms with these songs, but waiting impatiently for a movie good enough to use any of these songs as soundtrack material to come along. Listen to this CD and you will want to see the movie. Any movie into which these dramatic, achingly lovely pieces fit. You will want to see people dance to these songs, and meet to them, and eat, drink and be in all ways merry to them.
In the meantime, you will very much enjoy listening to and share the CD.
Buy InVentus
Author:
Arthur Shuey
Arthur has been reviewing music for publications since 1976 and began focusing almost exclusively on world music in 2012.
His musical background includes past presidencies of the Cape Fear Musicians Association and Blues Society of the Lower Cape Fear, founding membership in nine other blues societies, service on 17 music festival planning committees, two decades of teaching harmonica to individuals and groups, operating a small recording studio and performing solo and in combos for 30 years.
Arthur has written professionally since 1975, pieces ranging from short fiction to travel articles, humor to poetry, mainly for local and regional entertainment media. His blog," Shuey's World," is featured at www.accesswilmington.com.