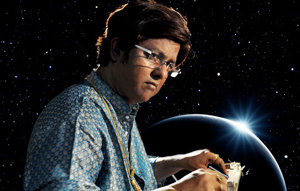 Guitar maestro Debashish Bhattacharya, from India, will stream a live concert online on January 12, 2013 to promote the launch of his single and include tracks from his upcoming album Beyond The Ragasphere.
The concert celebrates the 150th anniversaries of the birth of his guru's Swami Vivekananda and Rabindranath Tagore. It also coincides with Debashish's own 50th birthday celebrations too.
Vivkenanda worked tirelessly to introduce the Indian philosophies of Vedanta and yoga to the West in the late nineteenth century and is credited with helping to elevate Hinduism to the recognized status of a major world religion. Tagore was a Bengali polymath who crafted some of India's most beloved music, art and poetry.
The performance will be streamed direct from Kolkata and offers a great opportunity to experience Indian music performed in the beating, pulsing heart of West Bengal. It also offers the chance to hear some of the musicians featured on Debashish's new album soon to be released on Riverboat Records.
The single 'Kirwani.One.5+8.Five' was released January 11th, 2013 and is taken from Debashish Bhattacharya's forthcoming album Beyond The Ragasphere.
'Kirwani One.5+8.Five' includes the seductively shape-shifting drum patterns of Jeff Sipe, who Debashish met when the American percussionist visited Kolkata to play at a festival with a friend of his. 'Kirwani One.5+8.Five' also introduces Debashish's daughter, Anandi on vocals. The renowned tabla player Bickram Ghosh also features. Ghosh used to play regularly for Ravi Shankar, has worked with Ustad Ali Ukbar Khan and was jamming with George Harrison of The Beatles before his untimely death. Here his formidable technique complete with percussive curlicues and serpentine coils ripples underneath the fast-moving melody line.
previous recordings include 3: Calcutta Slide Guitar, O Shakuntala, Raga Ahir Bhairav & Bhairavi, Calcutta Chronicles: Indian Slide Guitar Odyssey, Mahima and Raga Pahadi Jhinjhoti.
Watch live at: worldmusic.net
7pm (IST) / 1.30pm (GMT) / 9.30am (EST) / 5.30am (PST)
Author:
World Music Central News Department
World music news from the editors at World Music Central