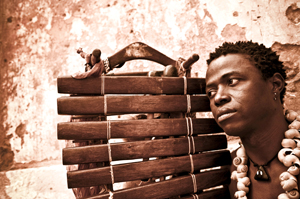 The program for the 2013 Edition of the Penang World Music Festival (PWMF) in Malaysia was announced this week. The festival will take place from March 30 to 31, 2013. A total of 12 top-notch bands will be featured at the festival during the two days, including Mu from Portugal, Kimi Djabate (Guinea-Bissau), Nasout (Iran), Alp Bora Quartet (Turkey), Saharadja (Indonesia), Inka Marka (South America), Kalayo (Philippines) and several Malaysian bands.
The venue will once again be the Quarry Park at the Penang Botanic Gardens. It is a tranquil and nature-inspired background to showcase the diverse range of musicians that will be making Penang home in the last week of March this year.
Mu will present upbeat Portuguese folk tunes using the bouzouki and hurdy gurdy, cello and percussion while Kimi Djabate and his gifted musicians will bring the sounds of the West African balafon.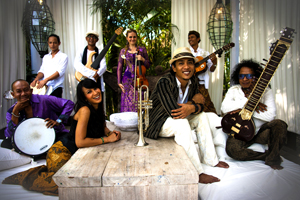 Inka Marka will be making their second appearance at the festival, having performed once in 2007. This South American band will present the melodies of the Andes.
Kalayo which means fire is expected to put the heat on at the festival with their melodic traditional Filipino folk music infused with pop and rock beats.
All the bands will be performing concerts at night and in addition the musicians will present daily workshop sessions that will take place in the afternoon prior to the concert. The workshops allow the public and audience to participate and learn the unique music making processes of the international artists. The event will be held in the open air and will proceed through any weather conditions.
From the traditional to the avant-garde, the rich spectrum that is World Music will be represented over two exciting days and nights of music and friendship.
This annual festival is organized by the Penang State Tourism Development and Culture Office and it is aim at attracting visitors to the island state. Tickets to the festival are priced at RM80 per day for adult and RM30 per day for a child between five and 12 years old. Tickets can be purchased online at www.ticketxpress.com.my
Penang, known as the Pearl of the Orient, is the city-island state in northern Peninsular Malaysia with a long rich history of cultural significance and has thrived as being a melting pot for all of its history. From being a 15th Century trading port with Ming Dynasty to a British colonial port in the 1700s, Penang has developed into a rich multicultural state within the Federation of Malaysia.
With the listing of Georgetown, the capital of Penang as one of UNESCO's World Heritage Sites in 2008, the significance of the island state on the world map was cemented. Given this reputation, it is only fitting that the music of the world is celebrated and presented in this melting pot of a city. There are several direct flights flying into Penang.
More about the festival at http://www.penangworldmusic.gov.my
Author:
World Music Central News Department
World music news from the editors at World Music Central