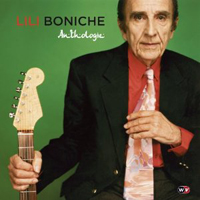 Lili Boniche
Anthologie (World Village, 2013)
Karina Feredj honored her late father, the Algerian crooner and lute player Lili Boniche with the retrospective Anthologie. While I know little about Lili Boniche besides what I've read in the liner notes, the songs on this album, especially the Arab-Andalusian songs such as 'Ana Fil Houb' sound familiar to my ears. Have I heard these songs on Putumayo or Rough Guide compilations? Did Souad Massi cover these songs? It's a mystery.
I can see why international audiences, especially in France and Algeria revered this singer back in the day, and even in more recent years. He possesses plenty of style, not to mention sings in different styles and he's a master of vocal phrasing. The music here dazzles with snaky saxophone solos, jangling ouds, and delicious polyphonic beats. The ballads of yesteryear still resonate today with glittering pathos and unrestrained passion. Anyone who enjoys hearing a master musician perform the classics of his day will enjoy this retrospective. I liked the recording immediately upon hearing the opening track.
Just listen to Boniche's melismatic vocals laced by Jewish violin on Elli Ghir and your heart will feel longing from the emotions expressed. 'Bambino' has an Arab-Caribbean flare with golden age percussion rippling in the background and a chorus of husky men's voices engaging in a call & response.
'N'Oublie Jamais Tes Parents' aches with the sadness recalling tangos or fados in intensity. The strings emphasize the sadness that drips from Boniche's vocals. Fortunately, the rousing song 'Alger Alger' follows and just in time.
The swirling accordion on the track, contributes a Parisian appeal. All and all, this represents a wonderful body of work that will sound perfect to a newcomer to Lili Boniche's repertoire and his old friends.
Buy Anthologie
Author:
PatriciaHerlevi
Patricia Herlevi is a former music journalist turned music researcher. She is especially interested in raising music consciousness. She is looking for an agent and publisher for her book Whole Music (Soul Food for the Mind Body Spirit). She founded and hosts the blog
The Whole Music Experience and has contributed to World Music Central since 2003.