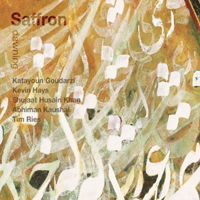 Saffron
Dawning (Palmetto Records, 2012)
Melding the considerable talents of singer Katayoun Goudarzi, pianist Kevin Hays, sitar player and vocalist Shujaat Husain Khan, tabla player Abhiman Kaushal and saxophonist and flute player Tim Ries, Saffron's Dawning is a lush and luxurious musical landscape wrapped around the poetry of the 13th century Persian poet Rumi. Intertwining fresh vocals and a free flowing musical give-and-take, Dawning discovers a space where centuries-old musical traditions and poetry blazes a new meeting place for Indian classical music and Western styled jazz.
Ms. Gourdarzi explains, "It makes sense to engage both East and West, to use both to express the poems. Unity and love are the most fundamental parts of Rumi's poetry. We could, of course, use the same music that was considered Sufi music, forever and ever for another 800 years. But it's a different world now, a new opportunity for interaction. And so long as we want to learn about each other, why not try to transcribe it in our own way?"
Seductive and engaging, Dawning lulls the listener with deliciously lavish tracks. Opening and title track "Dawning" is a good twenty minutes long and it's easy to slip under its spell of liquid vocals, sensuous piano and sitar lines with sinuous ribbons of clarinet. There is an almost meditative feel of Dawning, track after luxurious track follows the ebb and flow of vocals and music that at once evokes Eastern traditions before evolving into something decidedly Western and jazzy as with tracks "The Inquisitor" and "Tease."
Shujaat Khan explains some of Saffron's process this way, "When certain musicians gather, we speak a languate, and there are no words. We are conversing and we can feel each other's emotions changing, that it's all gelling and coming together. It's so beautiful and so unbelievable, being together with wonderful musicians and exchanging opinions musically."
Tim Ries adds, "I was meeting Shujaat for the first time. We had no real play. Kevin and I came to the studio with some musical motifs, some structures written down; I didn't even have my usual instrument with me, and had to borrow a horn from a friend. Yet despite all that, it was like sitting at the table and having long discussion about deep thing, except we didn't say anything."
That organic musical discussion bears some remarkable fruits, as Dawning is deeply delectable and soulfully ripe.
Buy Dawning
Author:
TJ Nelson
TJ Nelson is a regular CD reviewer and editor at World Music Central. She is also a fiction writer. Check out her latest book, Chasing Athena's Shadow.
Set in Pineboro, North Carolina, Chasing Athena's Shadow follows the adventures of Grace, an adult literacy teacher, as she seeks to solve a long forgotten family mystery. Her charmingly dysfunctional family is of little help in her quest. Along with her best friends, an attractive Mexican teacher and an amiable gay chef, Grace must find the one fading memory that holds the key to why Grace's great-grandmother, Athena, shot her husband on the courthouse steps in 1931.
Traversing the line between the Old South and New South, Grace will have to dig into the past to uncover Athena's true crime.