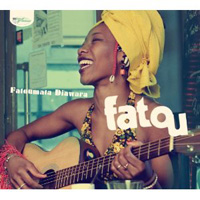 At World Music Central we don't have a single list of best albums. Instead, we ask our writers and a special guest to send us their lists. These are the lists of 10 Best World Music Albums of 2012.
We begin with Lara López, our special guest for 2012:
Lara is a Madrid-based radio producer and DJ. She presents her own show broadcast nationwide called Músicas Posibles on Radio 3-Radio Nacional de España. Since 2003 she is a member of the European World Music Charts.
1. Fatoumata Diawara – "Fatou" (World Circuit Records)
2. Lucas Santtana – "O Deus Que Devasta Mas Tambén Cura" (Mais Um Discos)
3. The Toure Raichel Collective – "The Tel Aviv Session" (Cumbancha)
4. Antunes, Scandurra & Diabate – "A Curva Da Cintura" (Mais Um Discos)
5. Ablaye Cissoko and Volker Goetze – "Amanké Dionti" (Motema)
6. Luis Delgado – "Luis Delgado Dirigido Por Gerardo Vera" (Warner Spain)
7. Baloji – "Kinshasa Succursale" (Crammed Discs)
8. Various Artists – "World Routes – On the Road" (Nascente)
9. Mariem Hassan – "El Aaiun Agdat" (Nubenegra)
10. Staff Benda Bilili – "Bouger Le Monde" (Crammed Discs)
Tom Orr
Tom is a California-based writer and a regular CD reviewer for World Music Central. His list is in no order whatsoever.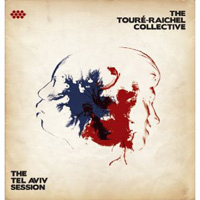 1. 10 Ft. Ganja Plant – "10 Deadly Shots Vol II" (ROIR)
2. Koo Nimo – "Highlife Roots Revival" (Tugboat Records/World Music Network)
3. Dub Colossus – "Addis Through the Looking Glass" (Real World)
4. Novalima – "Karimba" (ESL)
5. Amadou & Mariam – "Folila" (Nonesuch)
6. The Toure Raichel Collective – "The Tel Aviv Session"
7. Modogo & Sam – "Black Bazar" (Lusafrica)
8. Fanga/Maalem Abdallah Guinea – "Fangnawa Experience" (Strut Records)
9. Zieti – "Zemelewa" (Grigri)
10. Jimmy Cliff – "Rebirth" (Universal)
Madanmohan Rao
Madanmohan Rao is a Bangalore-based music editor & DJ, specializing in World Music and Jazz. He is a regular CD and concert reviewer for World Music Central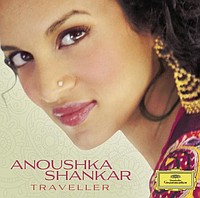 1. Anoushka Shankar – "Traveller" (Deutsche Grammophon)
2. Renata Rosa – "Manto dos Sonhos" (Sony)
3. Groupe Mazagan – "Introducing Groupe Mazagan" (World Music Network)
4. Various Artists – The Rough Guide to Samba (World Music Network)
5. Mário Moita – "Fado Navegante" (Arc Music)
6. Kamel El Harrachi – "Ghana Fenou" (Turn Again Music)
7. La Pongal – "Contemporary Tamil Music" (ArtSeek Records)
8. Damily – "Ela Lia" (Helico Music)
9. Mystik Vibes – "The Shadow Tree" (InstaMojo)
10. Vusa Mkhaya – "Vocalism" (Arc Music)
Rafael Mieses
Rafael is based in Tampa (Florida, USA) and is a regular contributor to Músicas del Mundo.com, our Spanish language world music website. His list is in no order.
1. Papo Vazquez – "Oasis" (Picaro Records)
2. Diego El Cigala – "Cigala & Tango" (Universal)
3. Sierra Leone's Refugee All Stars – "Radio Salone" (Cumbancha)
4. Bela Fleck and Marcus Roberts Trio – "Across The Imaginary Divide" (Rounder)
5. Gilberto Gil – "Concerto de Cordas & Maquina de ritmo" (Biscoito Fino)
6. Alex Diaz & his Merengue Jazz – "Beyond 145th Street" (Jazz en Dominicana)
7. Branford Marsalis Quartet – "Four MF's playin' tunes" (Marsalis Music)
8. Rodriguez – "Searching for Sugarman" (Columbia/Legacy)
9. Alfredo Rodriguez – "Sounds of Space" (Mack Avenue)
10. Hamilton de Holanda Quintet – "Brasilianos 3" (Adventure Music)
Tony Hillier
Tony Hillier is one of Australia's leading folk & world music writers and a member of the acclaimed Cairns-based band Kamerunga. Hillier's informed and insightful coverage of music from all over the globe features in The Weekend Australian and Rhythms magazine
Here is Tony's list of Ten Best Albums of 2012 with comments included.
Number One: Ondatropica – "Onda"
A stunning re-interpretation of Colombia's musical heritage, conceived by Colombian musician Mario Galeano and English producer Will 'Quantic' Holland. Has the potential to do for Colombian music what Buena Vista Social Club did for the music of Cuba.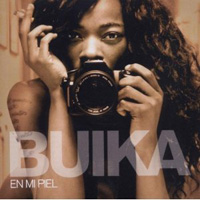 2. Buika – "In My Skin"
Buika is the daughter of political refugees from the African nation of Equatorial Guinea. She grew up on the Spanish island of Mallorca. Her music is a unique blend of flamenco, jazz, soul and blues.
Bellowhead – "Broadside"
The English folk canon has been catapulted into the 21st century on the back of this bodacious behemoth. With a blend of bravura playing and bravado arranging, a score of different instruments and a range of styling, Bellowhead has blown away cobwebs and all vestiges of chunky sweaterdom to reawaken a slumbering giant of a genre." http://www.bellowhead.co.uk
4. Sandy Evans & Friends – "Cosmic Waves"
Inspired Indo-jazz fusion from Sydney saxophonist Sandy Evans and Indian music champions Sruthi Laya.
5. Kelly Joe Phelps – "Brother Sinner & The Whale"
American troubadour Kelly Joe Phelps' poignant solo gospel-inflected album brims with magical finger-picking and slide guitar work.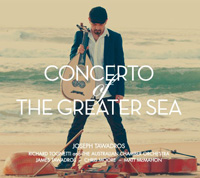 6. Joseph Tawadros – "Concerto of The Greater Sea"
Egyptian-Australian composer and Arabic lute virtuoso celebrates his deep connection with the ocean in this collaboration with brother James, pianist Matt McMahon, viola player Christopher Moore and violinist/orchestrator Richard Tognetti and the Australian Chamber Orchestra. Well-deserved winner of the 2012 ARIA Best World Music album award.
7. Mara! & The Martenitsa Choir – "Tra Parole e Silenzio"
Long-time champions of world music in Australia, Mara! deliver songs, in Italian, based on the poignant poetry of late human rights lawyer Edoardo Di Giovanni. http://www.maramusic.com.au
8. The Toure Raichel Collective – "The Tel Aviv Session"
A chance meeting in a German airport led to this collaboration between Israeli superstar Idan Raichel and Malian guitar virtuoso Vieux Farka Touré́. Israeli bassist Yossi Fine and Malian calabash player Souleymane Kane add spice to an inspired work. http://www.toureraichel.com
9. The Imagined Village – "Bending The Dark"
Renowned English folkies Eliza & Martin Carthy are part of TIV's often-changing line-up, guided by Afro-Celt Sound System founder Simon Emmerson. Age-old tunes such as Cuckoo's Nest and The Bedmaking are set adrift in a serpentine sea of swirling sound and rhythm that incorporates Asian chants, sitar, east European Gypsy-klezmer fiddle, Martin Carthy's distinctive acoustic guitar, a drumming duel and other seemingly disparate elements.
10. Archie Roach – "Into The Bloodstream"
Gospel, blues and soul inspire this reconnection with aboriginal veteran Archie Roach's creative spirit. A joyous celebration of resilience and the power of the spirit.
Patricia Herlevi
Patricia is a regular contributor to World Music Central. She also runs her own blog called Whole Music Experience. She includes her list of top 10 CDs for the year and honorable mentions.
Top 10 World Music CDs for 2012
1. Silvana Kane – "La Jardinera" (Six Degrees Records)
2. Hijos de Agueybana – "Agua del Sol" (Tumi Records)
3. Irene and Francis Jacob – "Je Sais Nager" (Sunnyside Records)
4. The Toure Raichel Collective – "The Tel Aviv Session" (Cumbancha)
5. Good Lovelies – "Let the Rain Fall" (Warner Canada)
6. "Mountain Music Project" (independent release)
7. Los Gauchos de Roldan – "Button Accordion and Bandoneon Music from
Northern Uruguay" (Smithsonian Folkways)
8. Os Cempes – "Tentemozo" (Folmusica)
9. Radmilla Cody – "Shi Keyah: Songs for the People" (Canyon Records)
10. Mahsa and Marjan Vahdat – "Twinkling of Hope" (Kirkelig Kulturverksted)
Honorable Mentions:
1. Lo'Jo – "Cinema el Mundo" (World Village)
2. Le Vent du Nord – "Tromper le Temps" (Borealis Records)
3. Chris Berry – Oka! (soundtrack/field recording), independent release
4. Tony Duncan – "Earth Warrior" (Canyon Records)
Best Compilation:
"Putumayo Presents… African Blues" Putumayo Records
Angel Romero
Angel Romero y Ruiz is the founder and managing editor of World Music Central. His list is in no order.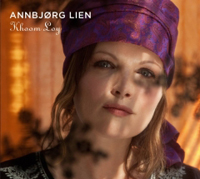 1. Annbjørg Lien – "Khoom Loy" (Heilo/Compass Records)
2. Gerardo Núñez – "Travesía" (The Act Company)
3. The Olllam – "The Olllam" (Compass Records)
4. Ana Alcaide – "La Cantiga del Fuego" (ARC Music)
5. Debo Band – "Debo Band" (Next Ambiance/Sub Pop)
6. Fatoumata Diawara – "Fatou" (World Circuit/Nonesuch Records)
7. Anoushka Shankar – "Traveller" (Deutsche Grammophon)
8. Kan – "Sleeper" (KANCD01, 2012)
9. Samuel Yirga – "Guzo" (Real World Records)
10. Diego El Cigala – "Cigala & Tango" (Universal)
Best Compilation:
Carlos Núñez – "Discover" (Sony Masterworks)
Upcoming Artists:
Amós Lora, born in Madrid on September 21, 1999 is the 13 year old flamenco guitar prodigy from Madrid (Spain) who recorded his first solo album titled Cerro Negro at 12. His technique has impressed the international guitar community and the CD booklet includes an introduction by the grand master of flamenco guitar, Paco de Lucía.
Amós' performance on video of Paco de Lucia's classic 'Entre dos Aguas' has been viewed by over half a million visitors.
Kardemimmit is a superb Finnish ensemble of young singers and kantele players. Their latest album is titled "Autio Huvila" (Frigg)
Author:
Angel Romero
Angel Romero y Ruiz has been writing about world music music for many years. He founded the websites worldmusiccentral.org and musicasdelmundo.com. Angel produced several TV specials for Metropolis (TVE) and co-produced "Musica NA", a music show for Televisión Española (TVE) in Spain that featured an eclectic mix of world music, fusion, electronica, new age and contemporary classical music. Angel also produced and remastered world music albums, compilations and boxed sets for Alula Records, Ellipsis Arts, Music of the World.