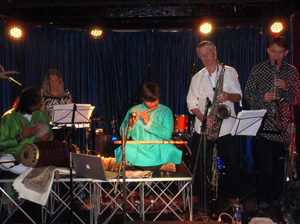 Music fans in Bangalore were treated to a unique mix of 'world jazz,' with a blend of modern jazz, African highlife, and Indian Carnatic classical music. The performance of the aptly named New Jungle Orchestra deftly crossed and mixed genres with the lineup of 8 musicians from Denmark and India.
The Indian lineup included flautist Shashank Subramanyam and Parupalli Phalgun on mridangam and kanjira. The Danish musicians were led by Pierre Dørge on guitar, backed by Martin Andersen (drums), Morten Carlsen (tenor sax and East European taragot), Jacob Mygind (soprano and tenor sax), and Anders Banke (clarinet and bass clarinet). Pierre's wife Irene was on keyboards, and bass was played on the keyboards as well — though a full-fledged bass guitarist would have been very much welcome.
The performance showcased not just the superb musicianship of the individual artistes but their comfort and expertise in playing together across musical boundaries. Some numbers like "Poosha Moosha' began as south or West African but blended into jazz and then merged into Indian classical music. From slow ambling gaits to straight ahead galloping jazz and catchy Carnatic riffs, the band delighted the audience in a two-hour set.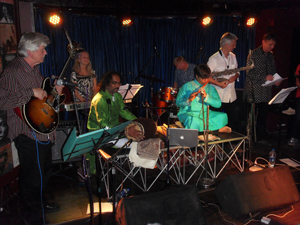 Pierre Dørge (http://pierredorge.com) is a Danish avant-garde jazz guitarist, bandleader and composer from Copenhagen; he is known for his blend of traditional and modern jazz with West African highlife guitar music. Shashank Subramanyam is a child prodigy and a Carnatic classical flautist, and has branched out into jazz as well.
Shashank cited Tyagaraja as one of the main influences in the compositions he played. On tracks like Sawaralaya he played a wide range of flutes of different timbre, and also led rapid-fire tradeoffs with the clarinet. The piece Minchu featured a terrific jugalbandi between mridangam artiste Parupalli Phalgun and drummer Martin Andersen; Martin at times switched between his bare hands and drumsticks.
The track Street Argument literally sounded like one, with the wind instruments seemingly arguing with each other. One of the tracks was dedicated to sax great Eric Dolby. Another African composition Joobe Joobe featured excellent work on the bass clarinet. One of the Danish songs was intriguingly dedicated to 'listening to a nightingale on a summer night.'
The creative piece Whispering Elephant featured the three wind section musicians 'whispering' softly through their instruments. During the crescendo of the last track they also got off the stage and walked around the audience while playing without a break.
The New Jungle Orchestra has been around since 1980, and blends jazz with Asian, African and European influences. Their India tour included performances in Bangalore, Puri, Hyderabad, Kasaragod, Mangalore and Chennai. Their shows celebrate the passion and joy of collaborative music, irrespective of instrument, genre, nationality and age.
More about the project at New Jungle Orchestra
Author:
Madanmohan Rao
Madanmohan Rao is an author and media consultant from Bangalore, and global correspondent for world music and jazz for World Music Central and Jazzuality. He has written over 15 books on media, management and culture, and is research director for YourStory Media. Madan was formerly World Music Editor at Rave magazine and RJ at WorldSpace, and can be followed on Twitter at @MadanRao.