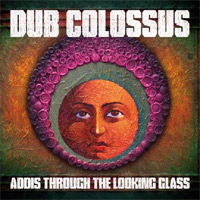 Mixing and matching musical styles can often be a good thing and sometimes be a great thing. It can help global music listeners discover new types of music when a familiar one serves as a gateway and lead to mutual inspiration and insight among musicians, which then comes through in the music itself. It can also cause purists to gripe, but I'm going to focus on the positive here.
The first release by Dub Colossus, 2008's In a Town Called Addis, was a superb blending of reggae, jazz and traditional Ethiopian music masterminded by British multi-instrumentalist, composer and producer Nick "Dubulah" Page. Followup Addis Through The Looking Glass (Real World, 2012) is equally stunning and even better, with more Ethiopian vocal and instrumental elements at the forefront. There's still a heavy reggae vibe to much of it- witness the fine cover versions of "Satta Massagana" and "Uptown Top Ranking" -but more seamless combinations of the jazz and Abyssinian factors abound and the music will send your mind to exotic places where a sound with all the best aspects of Ethiopia, Jamaica and the U.K. abounds. This stuff is indescribably good. Get it. Now.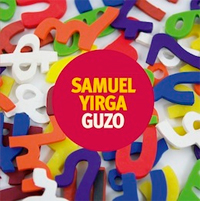 Dub Colossus is blessed with many fine players including pianist Samuel Yirga, whose own debut CD Guzo (Real World, 2012) echoes with the sort of Ethio-jazz greatness pioneered by Mulatu Astatke and throws in tasty funk, r and b and soul influences to boot. A couple of solo piano tracks go on a little too long, but when this album finds its groove, as on the excellent "I Am the Black Gold of the Sun" (featuring the Creole Choir of Cuba and Nicolette), it's truly inspired and very, very good.
An unlikely combination of Zimbabwe, Mozambique, Norway and Sweden is the basis of The Village (World Music Network/Riverboat Records, 2012) by Monoswezi, a band comprised of a singer/mbira player and singer/percussionist from Africa and Scandinavians on drums, bass and reeds. The plucked metallic tones of the mbira and the vocals sung by Hope Masike are very much in the manner of Stella Chiweshe, while the sparse, rolling arrangements inspire dancing and trancing in equal measure. Beautifully original music, unlike anything else out there and highly recommended. (www.worldmusic.net)
U.K. guitarist Justin Adams and Gambian ritti fiddler Juldeh Camara, now apparently operating under the name Juju, return with In Trance (Real World, 2011). It's their rockingest collaboration yet, with drumset in place of the percussion that propelled their previous pairings, and a single-take energy that might just set your CD player ablaze. As before, Adams' bluesy electric tones mix monsterously with Camara's zesty tartness while the latter's griot vocals soar things to even higher heights. There are seven lengthy tracks, each a first-rate jam.
French producer Jerome Ettinger has recently taken a liking toward the music of Egypt, and he shows his love with Egyptian Project's Ya Amar (Six Degrees, 2012). Described in the liner notes as "more of an infusion than a fusion," the album combines traditional Egyptian instrumentation and singing with non-invasive electronic beats and hip hop/trip hop enhancements. The two sides of the equation are balanced to near-perfection, resulting in dance music with more substance than most and a chance for several top-notch veteran Egyptian players to show their virtuosity. Nice.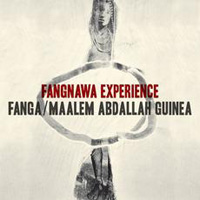 Finally, I give you Fangnawa Experience (Strut Records, 2012), a CD that melds the talents of Afrobeat-leaning French band Fanga with the trance music of Gnawa master singer and gimbri player Maalem Abdallah Guinea. Polyrhythmic Afrobeat grooves are seasoned by rattling metal qraqebs and the epic-length tracks for which Afrobeat is known are given new spiritual might by the call-and-response singing of Guinea and his vocal chorus alongside the spoken/sung declarations of Fanga's Korbo. Fangwana Experience is consistently excellent, a mix of styles that's deeply, divinely inspired and here to make you get totally engrossed in the music even as you're dancing uncontrollably to it.
Author:
Tom Orr
Tom Orr is a California-based writer whose talent and mental stability are of an equally questionable nature. His hobbies include ignoring trends, striking dramatic poses in front of his ever-tolerant wife and watching helplessly as his kids surpass him in all desirable traits.