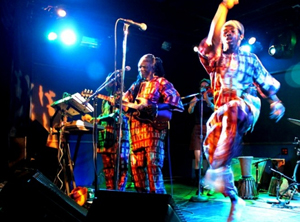 Sierra Leone's Refugee All Stars is set to perform in Dublin (Ireland) on Wednesday, January 23rd, 2013 as part of Waltons World Masters, a series that has brought to Ireland some of the world's most extraordinary musicians.
Sierra Leone's Refugee All Stars arose from the ashes of war and won the hearts of multitudes of fans around the world with their uplifting songs of hope, faith and joy. The group is a compelling example of the redeeming power of music and the ability of the human spirit to persevere through unimaginable hardship and emerge with optimism intact.
Forced to flee Sierra Leone during its brutal civil war, Sierra Leone's Refugee All Stars formed in refugee camps across the border in Guinea. Having entertained their fellow residents for several years, they were brought to the attention of the wider world through the acclaimed 2006 documentary Sierra Leone's Refugee All Stars.
Their vibrant sound draws on highlife and reggae. From their humble beginnings, Sierra Leone's Refugee All Stars have recorded three superb albums, Living Like a Refugee, Radio Salone, and Rise & Shine, performed on some of the world's most prestigious concert stages and matured into one of Africa's top touring and recording groups.
Reuben Koroma – vocals, guitar, bandleader
Jahson Bull – guitar, keyboards, vocals
Ashade Pearce – guitar, vocals
Dennis Sannoh – bass guitar, vocals
Alhaji Kamara – vocals, percussion
Christopher Davies – drums
When: Wednesday, 23 January, 8 pm
Where: National Concert Hall, Main Auditorium, Earlsfort Terrace in Dublin
Presented by Waltons New School of Music
Tickets: €24, €30, €34 (choir balcony €34) from nch.ie
See www.newschool.ie/worldmasters for more.
Author:
World Music Central News Department
World music news from the editors at World Music Central