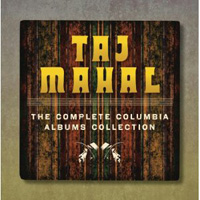 Coinciding with Black History Month in February 2013, Columbia/Legacy Records is set to release a box set by iconic African American musician Taj Mahal. The collection titled The Complete Columbia Albums Collection will celebrate the musical achievements of Taj Mahal, a bluesman, far reaching American roots songwriter, and pioneer of world music.
The deluxe box set will include all ten of Taj Mahal's original Columbia albums, plus one movie soundtrack and the two previously-unreleased albums that comprised last year's The Hidden Treasures Of Taj Mahal: 1969-1973 package. Fifteen CDs in all, covering 170 tracks. The set will be available everywhere February 5, 2013.
Albums include all titles originally released on Columbia Records: Taj Mahal (1968), The Natch'l Blues (1968), Giant Step/De Ole Folks At Home (double-CD, 1969), The Real Thing (live, 1971), Happy Just To Be Like I Am (1971), Recycling The Blues & Other Related Stuff (1972), Sounder (movie soundtrack, 1972), Oooh So Good 'N Blues (1973), Mo' Roots (1974), Music Keeps Me Together (1975), and Satisfied 'N Tickled Too (1976). Many of these titles have been out of print for decades and are being issued in the United States for the first time on CD.
In addition, the box includes two historic Columbia/Legacy archival releases. Rising Sons Featuring Taj Mahal and Ry Cooder was first issued in 1992 and features early group recordings of 1965-1966. Last year's Hidden Treasures features one CD of previously unreleased rarities alongside a second CD recorded live at the Royal Albert Hall on April 18, 1970, when the Taj Mahal group opened for fellow Columbia artists Johnny Winter and Santana.
Each of the CDs in The Complete Columbia Albums Collection is packaged in a replica mini-LP sleeve reproducing that LP's original front and back cover artwork. The accompanying booklet includes complete discographical information for each album, along with a liner notes essay written by blues and jazz and roots music commentator Miles Mellough.
Taj Mahal celebrated his 70th birthday on May 17, 2012, in the midst of a busy tour schedule. Among his most recent gigs, he could be found aboard the Holland America Line's MS Nieuw Amsterdam from January 20-27, for the all-star "Legendary Rhythm & Blues Cruise," featuring Dion, Mavis Staples, Elvin Bishop with Mickey Thomas, Big Head Todd & The Monsters, Tab Benoit, Rod Piazza & The Mighty Flyers, and dozens more.
"It has been my enormous fortune to have known, admired, enjoyed, revered, loved and survived with, my great friend Taj Mahal for damn near fifty years," says David Rubinson, the former Columbia Records staff producer who produced Taj's first five albums. "As this amazing collection illustrates, he was one of the very first to embody and make manifest a truly universal global humanism, a world without borders, risen from a deep inquiry and understanding and love of human beings in all their shapes and forms and shades and sounds. Taj Mahal is not a curator or archaeologist, but the unique summation of a vast repository of human, African, and African-American experience. His uniqueness is matched by his universality."
Buy The Complete Columbia Albums Collection
Author:
World Music Central News Department
World music news from the editors at World Music Central