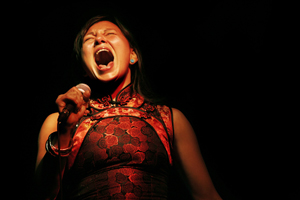 Inuit throat singer and sonic innovator Tanya Tagaq will return to Lincoln Center on Thursday, January 10 to perform her original score to the 1922 silent movie documentary classic, Nanook of the North. Born and raised in Nunavut, Canada's high arctic, Tagaq began experimenting with Inuit throat singing as a teenager and her first professional concert caught the attention of Bjork, leading to participation on the Icelandic artist's 2004 CD, Medulla, and to touring.
Tagaq's two critically-acclaimed albums, Sinaa and Auk – Blood , were joined in October 11 by the live album, Anuraaqtuq, Inuktitut for "Wind." In 2005, the Kronos Quartet invited her to participate in Nunavut, which was performed across North America and Europe. The ensemble reunited in 2007 for Tundra Songs.
Recently, Tagaq ventured into film scores, contributing to the soundtrack for Diaries of Knut Rasmussen and acted as musician/narrator for the award-winning National Film Board documentary, This Land.
Free – Double-bill: Tanya Tagaq / The Relatives
Free seating is limited and available on a first-come, first-served basis.
Target Free Thursdays
Thursday, January 10
David Rubenstein Atrium at Lincoln Center at 7:30 PM (Broadway between 62nd & 63rd St.)
For more information, including program updates, visit LincolnCenter.org/Atrium
Author:
World Music Central News Department
World music news from the editors at World Music Central