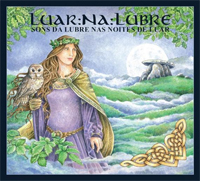 Contemporary Galician Celtic band Luar Na Lubre has released an album this month titled Sons da lubre nas noites de luar. It is a box set with 3CD plus a DVD with the best from its 26 year musical career. The collection includes 45 songs, seven music videos and a live concert at Santiago de Compostela (Spain) on July 31, 2012.
"The box provides a selection of our most significant repertory," says Bieito Romero, founder of Luar Na Lubre. The album's title means 'The sounds of the magical forest during the full moon nights.' This fantasy theme is extended to the rest of the album. Disc 1 is titled Trasnos (forest pixies) and features instrumental pieces. CD 2 is called Fadas (faeries) and presents the most representative songs (ballads, romances, traditional songs) performed by female vocalists who left their mark in the Spanish band's sound.
Disc 3 is titled Encantos. "Mythological beings that guard treasures", explains Bieito Romero. This selection showcases collaborations between Luar Na Lubre and artists such as Lila Downs, Luz Casal, Ismael Serrano, Adriana Valera, Pat Kilbride, Pedro Guerra and Diana Navarro.
In addition to the three CDs, the box includes seven music videos and a concert that reflects the current musical form of the band.
Luar Na Lubre's current lineup includes Bieito Romero on bagpipes, accordion, zanfona (hurdy gurdy), Paula Rey on vocals; Xavier Ferreiro on Latin percussion and effects; Xan Cerqueiro on flutes; Pachi Bermúdez on bodhran, drums and jembe; Pedro Valero on acoustic guitar; Xulio Varela on bouzouki, vocals and percussion; and Eduardo Coma on fiddle.
The band's discography includes: O son do ar (1988), Beira atlántica (1990), Ara Solis (1993), Plenilunio (1997), Cabo do mundo (1999), Cabo do mundo (1999), XV aniversario (2001), Espiral (2002), Hai un paraiso (2004), Saudade (2005), Camiños da fin da terra (2007), Solsticio (2010), Ao vivo (2009), Mar Maior (2012)
Author:
World Music Central News Department
World music news from the editors at World Music Central