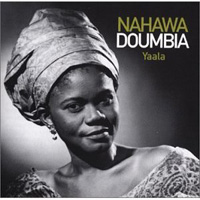 Nahawa Doumbia
Yaala (Cobalt 09296-2, 2000)
The title track – 'Yaala' meaning 'work'- sets the tone: 'you don't earn a thing, if you don't work; you've got to get down to it'. Nahawa Doumbia 's existence seems miraculous proof! Her mother died giving birth to her. Her father, so upset by grief, wanted to bury the cursed infant with her dead mother.
She was saved by her grandmother, whose cow, however, was too old to produce milk. Another cow, found in extremis, was struck dead by lightning. The grandmother had to beg milk from other village new mothers.
Nahawa Doumbia 's musical career took off in 1981 when she won Radio France International's New Talents competition. Nahawa Doumbia 's artistry is faithful to Wassoulou (south of Bamako) musical tradition – forceful vocals backed with traditional and modern instruments and rhythms – guitars, balafon, djembes, choruses, etc.
The songs, mostly composed by Nahawa Doumbia herself, even though illiterate, tend to praise socially positive behavior, and excoriate negative habits – e.g. the first track on 'Yaala' praises 'those who refuse to slumber in laziness, be they peasants, traders, teachers or even djembe players...'
North American listeners, unlikely to grasp the significance of the lyrics, will focus on the musical prowess – constantly in evidence!
Buy Yaala
Author:
William Bain
William Bain wrote these reviews while he was host of 'Chimes of Freedom' on CFFF/ Trent Radio (Peterborough, Ontario, Canada)