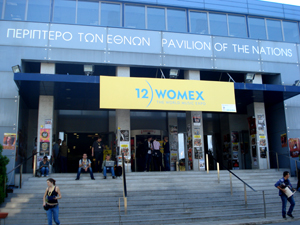 From October 17th through October 21st, the annual world music gathering WOMEX (Worldwide Music Expo) took place in Thessaloniki (Greece). This itinerant international congress celebrated its 18th edition. After staying in Copenhagen during the last three years, we were able to enjoy once more another southern European region, warm and with a lot of history. Prior to Copenhagen, the event took place in Berlin, Brussels, Marseille, Stockholm, Rotterdam, Essen, Newcastle and Sevilla.
For a few years now, this grand congress has become the focal point of encounter for professionals in this genre: artists, managers, production companies, record labels, journalists, public agencies and institutions, festivals and publications.
In Thessaloniki we had the opportunity to see some of the most significant Greek artists and make contact with the best professionals from the Greek world music industry.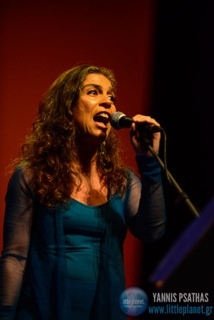 Thessaloniki, capital of central Macedonia, is located in the center of the Thermaic Gulf, in the Aegean Sea coast. If you include its metropolitan area, it has around 1.200.000 inhabitants. It is therefore, the second largest city in Greece and its main industrial center. In addition, and you can breathe this in its nightlife, it has one of the most important university centers in the country.
The location selected by the organizers to celebrate WOMEX was some of the pavilions of the extensive fairgrounds of Heliexpo, a great space located at one of the edges of the city.
The balance of participants in this 18th edition was similar to the previous event. According to organizers, the total number included 2200 delegates from 90 countries, with 245 booths.
There were 61 showcases with a total number of 350 artists from 50 different countries divided in 5 stages; 70 conference panelists in 20 different sessions; and 13 screenings in the WOMEX Film Market.
Despite the crisis in the industry, this new edition demonstrated the importance of the commercial side of the event that continues to be vital for professionals in this field. The artistic lineup was of medium quality and, in my opinion, inferior to previous editions. Some members of the selection jury (the so called 7 Samurais) were not up to standard for such a reputable event.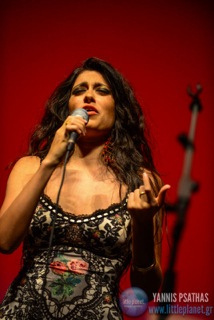 In the area of discussions, the majority of conferences were focused on technical and legal issues, as in previous years. The rest were somewhat mediocre. As far as presentations, highlights included the promotion of the music of Peru; the "Mediterranean Music Expo" to be held in Bari, capital of the Italian region of Puglia; and WOMEX 2014, which will take in Santiago de Compostela.
On Wednesday, October 17th in the evening, there was the traditional WOMEX opening concert, at the Megaron Musikis of Thessalonini, a grand concert hall with beautiful Byzantine artwork. At the beginning of the event, various local officials welcomed the delegates. Anna Pötzsch, WOMEX's head of PR and communications closed this part of the event. Next came the inaugural concert, a tribute to legendary singer Roza Eskenazi (Istanbul 1897 – Athens 1980), also known as "the queen of rebetiko" (rebetiko, for those who don't know, is a local Greek musical genre which is comparable, in a certain way, to Portuguese fado, Argentine tango or American blues).
On stage, the instrumentalists of the "My Sweet Canary Ensemble" (this is title of a popular song written by Roza Eskenazi), accompanied with great skill the four "divas" that represented the various cultures that lived in harmony in this Hellenic city. There was the Athenian singer Yota Nega, Turkish vocalist Mehtap Demir, young Israeli singer specialized in Sephardic music, Mor Karbasi, and world renowned Greek singer Savina Yannatou, an artist with deep roots in Thessaloniki. All of them shared songs individually or accompanied sometimes by Greek group Apsiles.
Undoubtedly, it was the most exciting WOMEX opening I can remember because of its cultural respect concept and epic musical romanticism, for the superb performances of the four singers, and for its message of peace ad harmony.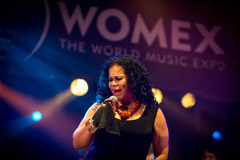 The highlight above all on Thursday, October 18th, was the concert by the contemporary folk ensemble from Bosnia – Herzegovina called Divanhana, led by the subtle vocals of its singer, Leila Catic. Another standout was the energy of Salento-based Italian band Canzoniere Grecanico Salentino; the violin and zither virtuosity of Serbian (of Hungarian ancestry) musician Félix Lajkó; Greek vocalist and oud player Martha Mavroidi with her trio, and the exoticism of Sami singer Niko Valkeapää. Ohers acts worth mentioning include Vieux Farka Touré & Idan Raichel, and Finn band Tsuumi Sound System.
Of all the artistic activity on Friday October 19th, I liked Turkish ensemble Café Aman Istanbul; new English singer-songwriter, Sam Lee; veteran Peruvian singer Eva Ayllon, and Salentine singer Antonio Castrignanò. Also notable was the performance by Greek artist Babis Papadopoulos.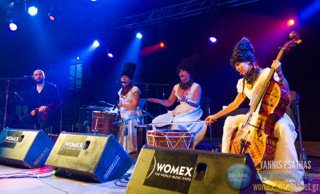 High points on Saturday, October 20th include the outstanding Ukrainian quartet, DakhaBrakha, the best band I saw at WOMEX this year. Formed in 2004 at the Contemporary Art Center in Kiev, its music experiments with traditional melodies from its country, together with minimalist music and electronic rhythms, generating strong and persuasive music that is modern and absolutely hypnotic. A real surprise and discovery.
Other highlights include elegant Cape Verdian singer Nancy Vieira; the roots minimalism of Greek oud player Michalis Tzouganakis; the powerful Balkan rhythms of Serbian trumpeters Boban & Marko Markovic Orchestra; the new Turkish music of Gevende, and Brazilian act Graveola e o lixo polifónico. The only Spanish band selected to showcase was Lenacay, who had a very weak performance, with little creativity, full of musical clichés used by many other bands, using repeatedly the tired "Barcelona brand" perhaps with too much frivolity and opportunism. A show made for tourists and party dancers.
There were many more groups from various countries, primary ensembles that presented their respective showcases, with an extremely "light" sound, and repetitive dance rhythms, that could be found in any African, Latin American or Balkan country. In summary, with no musical personality.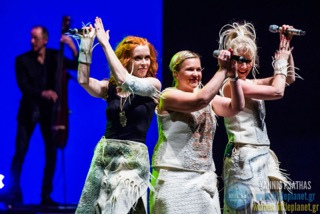 On Sunday morning we had the annual award ceremony. The WOMEX 2012 Artist Award went to Finnish band Värttinä. The institutional award was given to Russian journalist and cultural activist Alexander "Sasha" Cheparukhin. Finally, the award to best record company, which is given by "World Music Charts Europe", was presented to Lusafrica (France).
At WOMEX in Thessaloniki we noticed that there weren't enough Greek artists, although one understands that due to the deep crisis that the country is going through, they were not in the mood to invest in risky promotions. Nothing to comment about the organization, which was adequate. On the other hand, our pockets appreciated the economic difference as far as meals and hotels, compared with the previous WOMEX held in Denmark.
Now, we look forward to Cardiff, where the next WOMEX will be held. There, we will certainly enjoy Welsh good humor and its traditional music.
I would also like to congratulate our colleague, Greek journalist Giorgos Markakis, one the people involved in bringing WOMEX to his country.
Translated by World Music Central's Angel Romero
Author:
Albert Reguant
Albert Reguant is a Catalan journalist, born in Barcelona. He is a member of the workshops of folk music and world music of the European Broadcasting Union (UER/EBU) as well as well as a member of the "World Music Charts Europe". He has a radio show called Les Rutes del So at Ona Sants Montjuïc de Barcelona.
Website: http://www.wmce.de