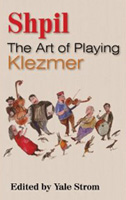 Shpil: The Art of Playing Klezmer, edited by Yale Strom was recently published. It is both a history of this popular form of traditional Jewish music and an instructional book for professional and amateur musicians.
Shpil offers an extensive history of klezmer, from its medieval origins to the present era. Individual chapters concentrate on the most common instruments found in a typical klezmer ensemble: violin, clarinet, accordion, bass, percussion, and even voice.
Contributors include a cast of musicians who have recorded, performed, and studied klezmer for years and have performed throughout the world. They are Norbert Stachel (clarinet), Peter Stan (accordion), Jeff Pekarek (bass), David Licht (drums), Elizabeth Schwartz (vocals) and Yale Strom (violin). All are members of the klezmer ensemble Hot Pstromi.
Each chapter concludes with a selection of three songs that illustrate and exemplify the history and techniques already described. Shpil includes a "klezmer glossary" of mostly musical terms and a discography of both classic and new klezmer and Yiddish recordings, all designed to guide readers in the appreciation of this musical genre and the art of playing and singing klezmer tunes.
Yale Strom is one of the world's leading ethnographers of klezmer culture. He has been doing field research among the Jews and Roma in Central and Eastern Europe on the topic since 1981. He is a graduate of San Diego State University and New York University and currently is artist-in-residence in the Jewish Studies Program at SDSU.
Buy Shpil: The Art of Playing Klezmer
Author:
World Music Central News Department
World music news from the editors at World Music Central