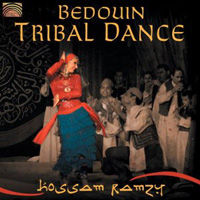 Hossam Ramzy
Bedouin Tribal Dance (Arc Music, 2007)
This album is themed on weddings and celebrations of the Egyptian tribal Bedouins from the North Western Sahara. The ten tracks make for less than an hour of music, and the tracks do not reveal as much diversity as some of Ramzy's other albums.
This CD has strong traditional appeal, and may not be as popular with the broader base of world music fans. Still, it is an important feather in Hossam Ramzy's cap, given his wide range of album output in categories ranging from Latin fusion to traditional bellydance.
Buy Bedouin Tribal Dance in North America
Buy Bedouin Tribal Dance in Europe
Author:
Madanmohan Rao
Madanmohan Rao is an author and media consultant from Bangalore, and global correspondent for world music and jazz for World Music Central and Jazzuality. He has written over 15 books on media, management and culture, and is research director for YourStory Media. Madan was formerly World Music Editor at Rave magazine and RJ at WorldSpace, and can be followed on Twitter at @MadanRao.