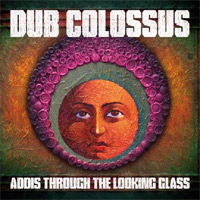 The album Addis Through The Looking Glass by renowned world music band Dub Colossus is now available in North America. "The aim", says Nick Page, the innovative musician and producer best-known as Dubulah, also founding member of Transglobal Underground and Temple of Sound, "is to constantly surprise."
Dubulah first visited Ethiopia's capital Addis Ababa in 2006 to work together with musicians and explore traditional Azmari styles, 60s Ethiopian pop, Ethiojazz and 70s Jamaican dub reggae. In Ethiopia he encountered several talented artists: female vocalists Tsedenia Gebremarkos, a highly successful African pop star, and Sintayehu 'Mimi' Zenebe who runs a nightclub in Addis. On the instrumentalist side, he met extraordinary young pianist Samuel Yirga (who recently released his solo album), veteran jazz saxophonist Feleke Hailu, and Teremage Woretaw, a traditional folk singer, who also plays the engaging one-stringed messenqo violin. These musicians became the foundation of Dub Colossus.
Addis Through The Looking Glass shows a seasoned and cohesive band that fuses contemporary and traditional Ethiopian styles with jazz and dub reggae. "This time they were saying to me "we'd like to show you our take on it, rather than you interpreting us," explains Dubulah. "It was a good exchange. They would come up with the subject matter and ideas for the next phase of the group. And I'd transport some of their ideas into another world."
Most of the recording took place in Addis Ababa, where local musician Abiyou Solomon, who plays bass on the album, lent the band a room in his house to use as a studio, "and it was brilliant – there were three cupboards which we could use as vocal booths, or put the horn section. It all worked well apart from the sound of rain on the roof – the rain hits very hard in Addis."
Additional sessions were recorded in the UK, where another set of musicians became involved. They include reggae singer Mykaell Riley, famous for his work with Steel Pulse, Jamiroquai's drummer Nick Van Gelder, the Horns of Negus brass section, bass work from Dr Das of the Asian Dub Foundation, and acoustic bass from Bernard O'Neill, who works with Dubulah in the Arabic-influenced Syriana. Dubulah performed guitar, bass, harmonicas and keyboards, produced the set, and co-wrote several of the songs.
Read the review published at World Music Central: Colossal Ethiopian Dub
Buy the album or MP3 downloads:
Author:
World Music Central News Department
World music news from the editors at World Music Central