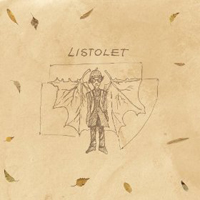 The debut album of the band Listolet has a folk-rock base mixed with gentle sounds of electronics and melodic brass lines. Despite the bustling and colorful sound, Listolet cannot deny its folk roots and its main strength is the power of ordinary songs.
Listolet was founded by Tomas Hacek and Kuba Navratil and on the album there are several other artists featured, such as Michal Prochazka from Mako!Mako playing the base guitar. The manifold ten-track album with the subtitle 'something for the grown-ups, something for the kids' will send the listener to the landscape of poetic autumn images as well as jolly music themes.
Kruty omyl was the name of the band which ceased to exist in 2007. Listolet is the album that was made in autumn of 2008 only to be put back into a drawer. The authors Tomas Hacek and Kuba Navratil explain the origin of the album: "After Kruty omyl and other projects we gathered a lot of interesting material and music ideas. In summer 2008 we came up with the idea of doing just a studio project and we recorded ten songs. The project got the name after the band which never came to exist." The year 2011 was finally the right time to remaster the album and publish it.
In January 2011 a new band was formed, the two men began to cooperate with Marek Vrablik (bass guitar), Martin Susedik (electric guitar) and Petr Kuczman (drums). Listolet now plays alternative rock with a bit of electronics. As one of the leaders of the band, Tomas Hacek says: "After quick and successful introduction of the live show of Listolet the decision was made to publish our original album. All songs were thoroughly revised as well as the graphics of the booklet was changed." Mastering was done by Bronek Smid from Indies studio.
Buy the CD from Indies Scope Records
Buy MP3s from Amazon
Author:
World Music Central News Department
World music news from the editors at World Music Central