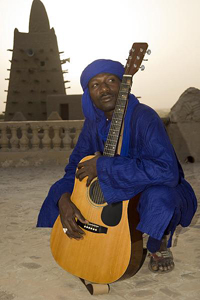 Renowned Tuareg guitarist and songwriter, Koudede died on Sunday, October 28th of 2012 in a car crash on his way home to his family in Niamey, Niger. Koudede was well-known and respected in the Tuareg music scene for his solo work and participation in the groups Ishumar and Inerane.
Born in Agadez (Niger), Koudede grew up in Arlit, in northern-central Niger, between the foothills of the Ayar (Aïr ) Mountains and the sands of the Sahara. He made his first guitar from a tin can. By the time he held a real guitar, he was good enough to accompany musicians such as Abdallah Oumbadougou (Takrist 'n' Akal).
After spending time in Algeria and Libya, he moved to Agadez, known as the Tuareg capital, and in typical nomadic fashion started to travel around the Sahel region, following the calendar of family celebrations and community festivals.
He played for a time with other Tuareg musicians before composing and performing his own original songs. He came to the notice of the public for the first time at the 'Cure Salée' festival ('salt cure').
Koudede's music was based on a traditional ternary rhythmic structure originated from the 'tende' – the Tuareg drum, which is played stretched across two pieces of horizontal wood. Initially, Koudede used his guitar like the 'tehardent' (three string lute), but eventually he took advantage of the full harmonic range of his guitar, developing his own individual style.
His discography includes Amghar-d'ana (Taxila, 2004), Alam'i (Taxila, 2006), Ishumar (Reaktion, 2008), Guitars from Agadez vol. 3, with Group Inerane (Sublime Frequencies, 2010), Guitars from Agadez vol. 4, with Group Inerane (Sublime Frequencies, 2011), and Guitars from Agadez – vol. 5 (Sublime Frequencies, 2012). His music also appeared in Putumayo's African Blues album.
Koudede's lyrics were based in Tuareg poetry, which recounted primarily what the traveler sees around him. Koudede's songs were arranged in the form of repeated refrains, picking up and developing proverbs, advice or parables over the course of the verses. His songs spoke of young married life; camels; virtues such as patience; children's games; of distant Tuareg camps and difficult loves. Sometimes there was anger – against cowardice, laziness, corruption or unjust wars.
Find out more about his work at http://www.koudede.net
Author:
World Music Central News Department
World music news from the editors at World Music Central