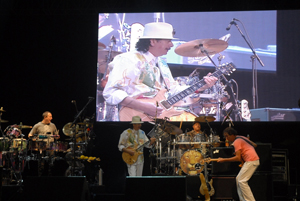 Long before the term 'world music' was coined, Carlos Santana was creating and popularising his own blend of Latin, African, rock and blues music, tinged with trademark guitar licks, superb percussion and catchy vocals. He also ventured into Indian spirituality with John McLaughlin in the album Love Devotion Surrender.
Strangely enough, the word-traveled Santana had not played at all in India – till October 26, 2012 (see my coverage of his press conference the previous day at music.techsparks.com/?p=299, as well as his press meet at the Java Jazz Festival in 2011).
Carlos Santana was accompanied by 10 outstanding musicians for his India concert: David Mathews on Hammond organ, Benjamin Rietveld on bass, Milton Chambers on drums, Raul Rekow on congas, Karl Perazzo on percussion, Jeffry Cressman on trombone, Thomas Maestu on rhythm guitar, William Ortiz on trumpet, and Anthony Lindsay on vocals.
Dressed in full white, with his trademark classic white fedora hat, Santana had a commanding stage presence, walking back and forth, jesting with his troupe, and also sitting down on the platform next to the keyboardist for the more tender ballads. The rains mercifully eased up that evening, with the moon shining through the clouds. Quite a few in the audience also wore Santana hats, and several were smoking the good stuff.
Santana treated the audience to a wide swathe of his repertoire: Black Magic Woman, Maria Maria, Smooth, Got No One To Depend On, Samba Pa Ti, Guajira, Evil Ways and Jingo (with terrific videos as a backdrop — such as psychedelic fractals, and dancers in Africa).
An almost surreal sight was Oye Como Va playing to a video of Bangalore landmarks such as Vidhana Soudha, MG Road, Ulsoor Lake and Cantonment Station. There were also other tracks spliced in during medleys, such as Osibisa's Sunshine Day, Mano Dibango's Soul Makoosa and George Harrison's While My Guitar Gently Weeps.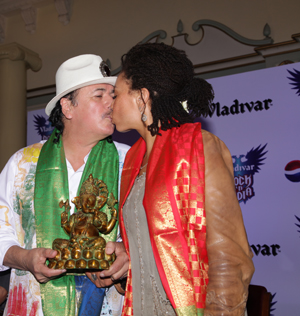 Santana's wife Cynthia Blackman played a drum solo in one section, after jamming away with Rietveld on bass, with Santana joining them later. "I am so blessed," Santana joked, as Blackman showed off her high-heeled shoes and walked off the stage later.
"You touch our hearts. You make us feel we are one family. One heart, one beat, one love," Santana told the cheering audience, evoking the messages of the Beatles, Bob Marley, John Coltrane and Ravishankar. "When the females are happy, everything is beautiful," he added, and the audience cheered even more.
He ended his high-energy set of over two hours with "A Love Supreme" (inspired by John Coltrane, and featured on his 1973 album with John McLaughlin, Love Devotion Surrender).
"Bangalore, just think of one message. All is one," he said with eyes closed. "No more war. No more brutality. Justice for all women. We need to think about what we are thinking. You are significant. You are meaningful. The mind has too much fear, but not the heart," he signed off, following up with "Soul Sacrifice" as an encore and vintage Woodstock video footage.
Author:
Madanmohan Rao
Madanmohan Rao is an author and media consultant from Bangalore, and global correspondent for world music and jazz for World Music Central and Jazzuality. He has written over 15 books on media, management and culture, and is research director for YourStory Media. Madan was formerly World Music Editor at Rave magazine and RJ at WorldSpace, and can be followed on Twitter at @MadanRao.