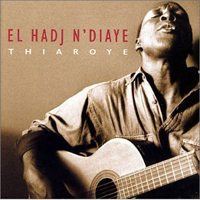 El Hadj N'Diaye
Thiaroye (Siggi Musique, 2002)
This is a wonderful CD! It features a Senegalese troubadour, singing his own compositions, accompanying himself on an acoustic guitar, backed by another guitarist and light percussion.
If I had not read the Spring/Summer number of 'Songlines' (a most impressive British 'world' music magazine), I would probably never have heard of this gentleman, which would be a most regrettable oversight. The very favorable review I read is entirely justified! N'Diaye has a powerful, moving and definitely memorable voice, and the music is delightful.
Thiaroye is apparently a slum of Dakar, where N'Diaye grew up and still lives. He works for a highly regarded local NGO, ENDA (ENvironment, Development, Action), a leader in the campaign against desertification and other related socio-economic problems.
The themes of the songs will delight developmental activists: excessive urbanization, abusive international financial institutions, AIDS, identity crisis – concerns that plague not just Senegal, but also most of the African continent.
The liner notes are excellent, with the lyrics in Wolof, French and English, allowing listeners to grasp fully both the intensity and the poetry of N'Diaye's appealing activism.
El Hadj N'Diaye sets a fine example, adding yet another admirable and worthy element to the incredible cornucopia of Senegalese music!
Buy Thiaroye
Author:
William Bain
William Bain wrote these reviews while he was host of 'Chimes of Freedom' on CFFF/ Trent Radio (Peterborough, Ontario, Canada)