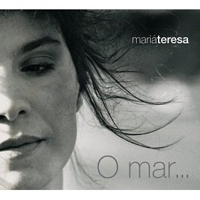 Maria Teresa
O Mar (Harmonia Mundi, 2004)
Wow! What a lovely sensuous and seductive album this is! Of course it has to be from a female Brazilian vocalist, this time Maria Teresa. The 14 tracks are an acoustic blend of melody and rhythm from Portugal and Brazil, who are after all joined by empire and language.
Portugal-influenced tracks dominate in this album, and include Fadinho Da Tia Maria Benta and Um Fado. Our favourites include Rosinha and Mae Preta-Barco Negro. The Brazilian tracks are influenced by popular writers like Caetano Veloso and Chico Buarque. Also see our earlier reviews of the related album "Portugal: The Greatest Songs Ever" by Petrol Records, which showcases more of the melancholy haunting fado style of music.
Buy O Mar
Author:
Madanmohan Rao
Madanmohan Rao is an author and media consultant from Bangalore, and global correspondent for world music and jazz for World Music Central and Jazzuality. He has written over 15 books on media, management and culture, and is research director for YourStory Media. Madan was formerly World Music Editor at Rave magazine and RJ at WorldSpace, and can be followed on Twitter at @MadanRao.