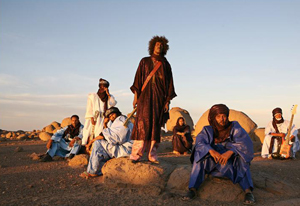 Tuareg band Tinariwen, a renowned desert blues act from northern Mali, will be performing on Saturday, October 20th, 2012 at 8:00 pm at the ArtsCenter in Carrboro, North Carolina. Carrboro is next to Chapel Hill and near Durham and Raleigh. Tinariwen's latest album, titled "Tassili" won the 2012 Best World Music Album Grammy.
Tinariwen's previous albums, Aman Iman (2007) and Imidiwan (2009) garnered critical acclaim and attracted the praises of Robert Plant, Elvis Costello, Thom Yorke, Brian Eno and Carlos Santana, with whom Tinariwen performed at the Montreux Jazz Festival in 2006.
On the new album, Tinariwen have engineered a minor aesthetic revolution by setting the electric guitar – the instrument which made them famous – to one side and giving pride of place to acoustic sounds, recorded right in the heart of the desert, which is the landscape of their existence, the cradle of their culture and the source of their inspiration. Tassili includes intriguing collaborations with members of TV On The Radio, Nels Cline (Wilco) and The Dirty Dozen Brass Band.
The Carrboro concert is part of the 11th Annual Daniel Pearl World Music Days, a global network of performances that unites audiences around the world in their common humanity as they take a stand against violence and hate.
The performance is made possible in part by Friends of World Music and the Center For Global Initiatives. It will be a seated show, but Tinariwen fans are welcome to dance in the aisles! Violinist and songwriter Kishi Bashi opens the evening.
Friends of World Music is a tax-exempt, non-profit, all volunteer organization incorporated in 1991 which brings world music and dance to the Triangle, NC area. Friends of World Music supports local as well as international performers of world music and dance, and its programs help people understand the many cultures of the world. Funding comes from an occasional grant and from its members.
If you would like to become a member or would like more information about Friends of World Music, call 919-787-2798, email friends at friendsofworldmusic dot org, or visitfriendsofworldmusic.org.
October 20th, 2012 at 8:00 pm
ArtsCenter in Carrboro, 300 E Main St # G, Carrboro, North Carolina.
(919) 929-2787
More information about Tinariwen at tinariwen.com
Author:
World Music Central News Department
World music news from the editors at World Music Central