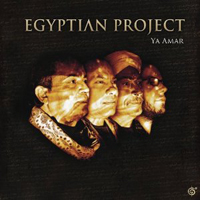 The Egyptian Project
Ya Amar (Six Degrees Records, 2012)
Haunting and soul stirring, French producer and argul player Jerome Ettinger along with sound engineers Jean Paul Romann who has worked with Tinariwen and Lo'Jo and Rodolphe Gervais who has worked with Desert Rebel and esteemed musicians Ragab Sadek, Salama Metwally and singer Sayed Emam have created and released their debut recording Ya Amar on the Six Degrees label.
Conjuring up an eclectic mix of traditional Egyptian music with trip-hop, electronica and classical music, Ya Amar is potent mix, possessing the familiar lushness and exoticism of North African music while infusing the sharp edginess of a contemporary musical outlook willing to fly in the face of convention. A fine balance has been struck on this recording between the traditional and the modern, so if you're looking for a collection of rhythm heavy, electronica tracks you should look elsewhere.
Mr. Ettinger explains the recording this way, "My idea was to mix electronic, acoustic and Egyptian traditional music. I chose one string instrument player, one singer, a percussionist and rababa player. They are all my family now – I manage and organize everything for all of them."
He goes on to explain, "In the beginning, it was not easy to mix electronic and Egyptian music. The rababa player had never played this way. I told him that he only had eight measure to play, be he wouldn't stop. It took a while to teach him to work in that construction."
Ya Amar indeed offers up a fine selection of the sparely traditional as with opening track "Takasim Salama" but goes one step further with tracks like vocal and oud soaked "Ya Amar" and the utterly delightful "Anta Ana" with bassist Julien Bonvoisin, percussionist Carlos Robles Arenas and cellist Camille Momper rounding out the sound. Sayed Emam's deep, silky vocals saturate Ya Amar and are a stunning lure as surely as Mr. Sadek does on percussion, Mr. Metwally on rabab and violin and Mr. Ettinger on argul. Some of the gems on Ya Amar include "Besharis," the darkly mysterious "Ya Sahbi" and the electronica soaked "Menen Aguibak" with Mr. Bonvoisin on bass, Mr. Robles Arenas on drums and Ms. Momper on cello. My favorite has to be the live version of "Rouhi" which simply thrums with yummy goodness.
Ya Amar possesses a splendid depth and well worth the three years to record. Let's just hope the next once, rumors have it Mr. Ettinger has plans for a Gypsy singer for live performances, will come much sooner.
Buy Ya Amar
Author:
TJ Nelson
TJ Nelson is a regular CD reviewer and editor at World Music Central. She is also a fiction writer. Check out her latest book, Chasing Athena's Shadow.
Set in Pineboro, North Carolina, Chasing Athena's Shadow follows the adventures of Grace, an adult literacy teacher, as she seeks to solve a long forgotten family mystery. Her charmingly dysfunctional family is of little help in her quest. Along with her best friends, an attractive Mexican teacher and an amiable gay chef, Grace must find the one fading memory that holds the key to why Grace's great-grandmother, Athena, shot her husband on the courthouse steps in 1931.
Traversing the line between the Old South and New South, Grace will have to dig into the past to uncover Athena's true crime.