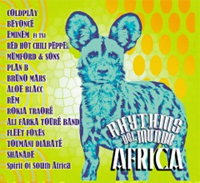 'Rhythms Del Mundo: Africa' is the most recent undertaking from Artists Project Earth (APE) and includes high profile western and African musicians collaborating on exclusive African mixes of contemporary hits.
APE travelled to Mali to record African musicians, Toumani Diabaté, Bassekou Kouyate, Ali Farka Touré Band, and Rokia Traoré. Sessions also took place in Kenya, South Africa and Swaziland. Members of Miriam Makeba's band and Senegalese musicians also added their dazzling musicianship to the collaborative tracks. Coldplay, Beyoncé, Red Hot Chili Peppers, REM, Eminem, Mumford & Sons, Plan B, Bruno Mars, and Fleet Foxes are merely some of the superstar artists lined-up for this remarkable release.
Rhythms Del Mundo: Africa is the highly anticipated follow-up to the 2006 hit 'Rhythms Del Mundo: Cuba', its successor 'Rhythms del Mundo: Classics' in 2009, and 2011's 'Rhythms Del Mundo: Revival', all of which were released in aid of the charity Artists Project Earth (APE).
Formed after the Indian Ocean tsunami disaster in 2004, APE was the idea of founder Kenny Young and intends to raise awareness and funds for climate change and disaster relief projects.
To date the organization has mobilized some of the world's biggest artists to help champion their cause and has provided funds to support over 300 projects worldwide, such as:
– Reforestation initiatives in the UK, Africa, Mexico and Brazil
– Wetland conservation in Uganda and orangutan conservation in Sumatra
– No Tar Sands, Anti-Fracking and Biofuelwatch campaigns
– A Special Award for the global Transition Towns movement
– … and in times of need, to help alleviate those suffering from natural disasters.
Funds raised from 'Rhythms Del Mundo: Africa' will support organizations working throughout Africa to alleviate the effects of climate change and drought.
"Artists Project Earth is funded entirely by sales of Rhythms Del Mundo albums," said Kenny Young, Founder and Trustee of Artists Project Earth said. "If you value our work addressing climate change and environmental justice, then please do make a donation to this good cause by purchasing a copy of our new album. Unlike most charitable donations, you get something tangible and enjoyable in return – as well as the knowledge that you are actively supporting some really well-respected organizations and projects. We are known as the 'Fairy God-Funders' of the climate change movement – please help us to continue spreading our magic!"
Set for release on November 20th on The End Records.
'Rhythms Del Mundo: Africa' Track listing
01. Viva La Vida (Africa Mix) [feat. Coldplay]
02. I Miss You (Africa Mix) [feat. Beyonce]
03. She Said (Africa Mix) [feat. Plan B.]
04. I Need a Dollar (Africa Mix) [feat. Aloe Blacc]
05. Not Afraid (Africa Mix) [feat. Eminem ft TS1]
06. Timshel (Africa Mix) [feat. Mumford & Sons]
07. Is This Love? (Africa Mix) [feat. Rokia Traore]
08. Under the Bridge (Africa Mix) [feat. Red Hot Chili Peppers]
09. Mykonos (Africa Mix) [feat. Fleet Foxes]
10. Losing My Religion (Africa Mix) [feat. R.E.M. ft Ali Farka Toure Band]
11. I Am Because (Africa Mix) [feat. Shanade]
12. Grenade (Africa Mix) [feat. Bruno Mars]
13. John and Yoko (Africa Mix) [feat. Rokia Traore]
Author:
World Music Central News Department
World music news from the editors at World Music Central