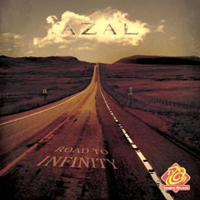 Azal
Road to Infinity (Times Music)
Pakistani artiste Azal joins others like Junoon and Strings with a release in India. Their album Road to Infinity was launched in Mumbai, drawing attention to its blend of melodic rock. Of the 10 tracks, our picks include Basti Basti, Ghannan Ghannan and Terey Labon Pey.
The piece Shaman is also worth a mention. The lineup includes Ali Rajab and Ehtisham a.k.a ET on vocals, Shahbaz Ali Khan on keyboards and Samir Ahmed on bass.
The band's earlier hits include Aisi Taisi.
Buy the Road to Infinity CD
Buy the download: Road to Infinity
Author:
Madanmohan Rao
Madanmohan Rao is an author and media consultant from Bangalore, and global correspondent for world music and jazz for World Music Central and Jazzuality. He has written over 15 books on media, management and culture, and is research director for YourStory Media. Madan was formerly World Music Editor at Rave magazine and RJ at WorldSpace, and can be followed on Twitter at @MadanRao.