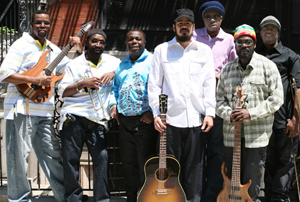 Reggae legends The Wailers are set to perform this Sunday, October 7th, 2012 at the 9th Annual Fall Shakori Hills GrassRoots Festival of Music & Dance. The festival begins this Thursday, October 4th and runs through Sunday, the 7th. The festival takes place on 72 picturesque farmland acres at 1439 Henderson Tanyard Road in Silk Hope, North Carolina, near Chapel Hill, Raleigh, Durham, Burlington, Cary, and Greensboro.
The Wailers are the most important reggae band of all time, selling in excess of 250 million albums and playing to an estimated 25 million people worldwide. Not only are they the engineers of reggae music, but they are beyond doubt the international exportation of Jamaican culture. Through his combination of ska music and Rastafari religion, Bob Marley, together with The Wailers, defined Reggae as a genre and Jamaican culture in a way that no one, before or since, has been able to accomplish.
The Wailers are celebrating Jamaica's 50th Anniversary by continuing to spread the message of reggae music. With such classic hits like One Love, Get Up Stand Up, Buffalo Soldier, Redemption Song and Three Little Birds, the Wailers reinforce at each performance why they are the finest reggae band in the world.
Shakori Hills Festival
Time: 7:15 PM
Tickets:
Weekend Pass- $95 ADV/ $100 DOS
Sunday only- $20 ADV/ $25 DOS
http://shakorihillsgrassroots.org
Author:
World Music Central News Department
World music news from the editors at World Music Central