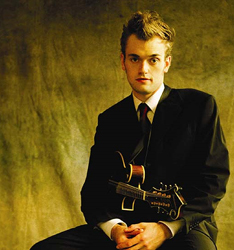 Mandolin maestro, singer, and composer Chris Thile, has been named a MacArthur Fellow. Thile was among the 23 new MacArthur Fellows for 2012, selected by the John D. and Catherine T. MacArthur Foundation. The annual fellowship, often referred to as the "Genius" grant, offers an unrestricted award of $500,000—$100,000 for each of the following five years—to individuals who, in the Foundation's words, "have shown extraordinary originality and dedication in their creative pursuits and a marked capacity for self-direction."
"These extraordinary individuals demonstrate the power of creativity," said MacArthur President Robert Gallucci. "The MacArthur Fellowship is not only a recognition of their impressive past accomplishments but also, more importantly, an investment in their potential for the future. We believe in their creative instincts and hope the freedom the Fellowship provides will enable them to pursue unfettered their insights and ideas for the benefit of the world."
Chris Thile has elevated the mandolin from its origins as a relatively simple folk and bluegrass instrument to the sophistication and brilliance of the finest jazz improvisation and classical performance.
"It's such a vote of confidence, " says Thile of the Fellowship. "The first thought is just, 'I don't deserve this. Surely there's been some mistake. You do know I play the mandolin, right?' The next thing is, 'I must work hard enough to deserve this. I have to step up my game. I don't want to be the odd man out on this list.'" He continues, "I feel like my best work, it's sort of like a tent, it's not really recognizable as anything that could be useful. And then all of a sudden, after all of this setup, it all comes up at once. I like the results, when I get the time to do that. And I think I'm going to have more time to do that."
For more than 15 years, Thile played in the band Nickel Creek, with whom he released three albums, Nickel Creek, This Side and Little Cowpoke, and sold two million records. Punch Brothers, which was formed in 2006 and also features four other virtuosic musicians—fiddler Gabe Witcher, banjo player Noam Pikelny, bassist Paul Kowert, and guitarist Chris Eldridge—released its first Nonesuch record, Punch, in 2008, followed by Antifogmatic in 2010 and Who's Feeling Young Now? in 2012.
Nonesuch released Thile's self-titled duo album with bassist Edgar Meyer in 2008 as well and Sleep with One Eye Open, his duo album with guitarist Michael Daves, in 2011. Chris Thile's mandolin concerto, Ad Astra er Alas Porci, was first performed in 2009 and received its Carnegie Hall premiere earlier this year.
Watch the MacArthur Foundation video on Thile here:
For more on the MacArthur Foundation and a complete list of this year's Fellows, visit macfound.org.
Punch Brother 2012 U.S. Tour Dates
October 2, The Music Hall, Portsmouth, NH
October 3, Lupo's Heartbreak Hotel, Providence, RI
October 4, Jorgensen Center for the Performing Arts, University of Connecticut, Storrs, CT
October 5, Gramercy Theatre, New Yorker Festival, New York, NY
October 7, The Paramount, Huntington, NY
October 8, Kent Stage, Kent, OH
October 9, The Blue Note, Columbia, MI
October 11, Mulberry Mountain Harvest Fest, Ozark, AR
October 12, La Zona Rosa, Austin, TX
October 13, Austin City Limits, Austin, TX
October 14, The Parish & House of Blues, New Orleans, LA
October 16, Memorial Hall, University of NC Chapel Hill, Chapel Hill, NC
October 17, The Orange Peel, Asheville, NC
October 18, Georgia Theatre, Athens, GA
October 19, Shoals Community Theatre, Florence, AL
November 25, Neptune Theatre, Seattle, WA
November 26, Tower Theatre, Bend, OR
November 27, Laxson Auditorium, Chico, CA
November 29, Napa Valley Opera House, Napa, CA
November 30, Rio Theatre, Santa Cruz, CA
December 1, The Luckman Arts Complex, Los Angeles, CA
December 2, Belly Up Tavern, Solana Beach, CA
December 4, Lobero Theatre, Santa Barbara, CA
December 5, The Crescent Ballroom, Phoenix, AZ
December 7, The Depot, Salt Lake City, UT
December 8, Wheeler Opera House, Aspen CO
December 9, Boulder Theatre, Boulder, CO
December 11, Beaumont Club, Kansas City, MO
December 12, First Avenue, Minneapolis, MN
December 13, The Vic Theatre, Chicago, IL
December 29, 30, 31, Bowery Ballroom, New York, NY
February 1–4, Mountain Song at Sea 2013, Norwegian Sky, Miami, FL
Author:
World Music Central News Department
World music news from the editors at World Music Central