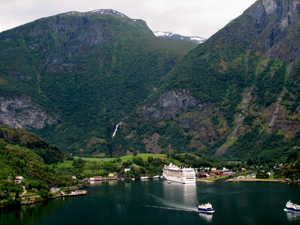 A Report from the Førde Festival by Tom Orr, July 5-8, 2012
"I'm here for a musical event, " I had to keep reminding myself. But it was my very first time in Norway, where even in an urban area the magnitude of Bergen, the country's second-largest city, you can hardly turn your head without seeing a magnificently misty mountain, a shimmering section of a fjord or some other storied example of Norwegian beauty.
I trekked to this Nordic wonderland to cover the Førde Festival, which has been happening annually for a lot of years and always revolves around a particular theme. This time the theme was coexistence, and if you don't happen to find that a worthwhile focus for a world music festival, chances are you're not the world music type and aren't reading these words. For those of you who are, let me tell you in my characteristically rambling manner about why I've joined the ranks of those who've been thrilled to be in Forde (a few scenic hours away from my starting point in Bergen) when early July arrives.
Words like "picturesque" don't begin to describe Forde, a place where mountains and greenery abound and where it's easy to understand what must have inspired Norway's Edvard Grieg to write that famous orchestral piece about a hall and a king.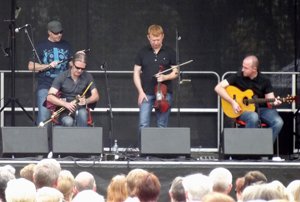 At festival time, the municipality of Forde becomes a global village, one in which Scandinavian fiddlers jam alongside Arabic oud players, Indian Sufis parade down the main street with a contingent from Korea close on their heels and visitors from all over get to enjoy sounds from a likewise wide swath of the planet.
Sprawling grassy areas in the center of town accommodated stages upon which The Other Europeans played their lively, zesty blend of horn-heavy Gypsy/Jewish roots, Madagascar's Damily sprinted through a set so hot that their onstage monitor literally caught fire and Lunasa thrilled a throng with a thing for traditional Irish. Lindigo from Reunion Island performed al fresco as well, but did so atop a local mountain. It was well worth the arduous climb to get a very up close listen to their percussion-and-voices maloya music.
And mountaintop maloya was far from the only transcendent experience Forde had to offer. There was a heavenly hour inside a centuries-old church at midnight, listening to the indescribably lovely harmonies sung by the women of Trio Mediaeval.
There was the transformation of India's Sidi Goma from reverent chanters of Sufi prayers into a group of shirtless, feathered, painted acrobatic dancers, one of whom hurled coconuts into the air and broke them open on his head. There was more choreographed brilliance when a quartet of Norwegian folkloric dancers starred in a cross-cultural tale with four Chinese kung fu master monks. There was a late night party in an idyllic area that could have stood in for Tolkien's Shire, where one of a band of local string players doubled as event staff and fiddled away expertly in his fluorescent orange vest.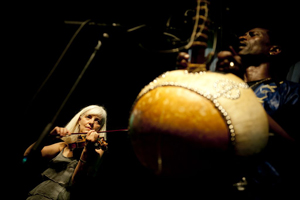 Much of what went on happened at Fordehuset, a large cultural center that houses multiple performance spaces. It was there that Yasmin Levy sent chills with her Sephardic splendor, Renata Rosa's northeastern Brazilian rhythms proved irresistible, Anoushka Shankar presented a sizzling mix of Indian classical music and flamenco, Alireza Ghorbani and Dorsaf Hamdani sang atop a masterful melding of Tunisian and Iranian sounds and Elika/Solo/Raphael combined Swedish fiddle, Senegalese kora and an array of percussion with seamless virtuosity.
This being Norway in July, daylight hours were plentiful. Such was celebrated with music lasting well into the early morning. Reasons to postpone sleep were easily found at Rica Sunnfjord Hotel, where a good many artists, journalists and festival attendees stayed. The hotel's sizable upstairs club was a perfect place for Cuba's Septeto Santiaguero to fill a late night dance floor, followed by Bassekou Kouyate and Ngoni Ba keeping the joint jumping with a rollicking Malian assault of plugged-in ngoni lutes, calabashes and penetrating griot vocals.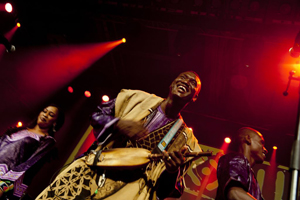 Local music was well represented, and that meant a goodly number of bows on strings. Norway's national instrument, the 8-string hardanger fiddle, enriched the pleasures of the Nordic Fiddlers Bloc and multigenerational Jolster 2012, both mixing tradition and tastiness.
The Never on a Sunday ensemble, on the other hand, matched the lone fiddle of Ragnhild Furebotten with a half dozen horn players for a uniquely jazzy flavor. Plus it was the hardanger-wielding young trio known as Vrang who meshed smartly with youthful musicians from Tunisia and Morocco in the combination that made up the Talent 2012 showcase.
Anywhere but the present day was Skjonn Anna og Lindeman, the music of which paid very fine tribute to Ludvig Mathias Lindeman, 19th century compiler and guardian of Norwegian ballads dating back to the country's most ancient days. Belgian/German/Norwegian quintet Anima similarly drew from early music sources and produced hypnotic results.
There was a good deal more of course, but the Forde Festival offers such an array of delights that taking it all in is an impossibility. But when you've got choices to decide upon, being in a friendly burg with lovely scenery and music to match assures that any choice will be ideal.
(Special thanks to Torill Faleide, Rigmor Johnsen, Aslak Oppeboen and Angel Romero.)
More about the festival at: http://www.fordefestival.no
Author:
Tom Orr
Tom Orr is a California-based writer whose talent and mental stability are of an equally questionable nature. His hobbies include ignoring trends, striking dramatic poses in front of his ever-tolerant wife and watching helplessly as his kids surpass him in all desirable traits.