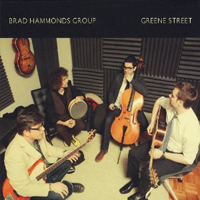 Brad Hammonds Group
Greene Street (self-released, 2012)
Here was a CD cover looked intriguing and inviting. A quartet of guys- an acoustic guitarist, a cellist, a percussionist and an electric bassist -sitting in what appeared to be a combination living room and home studio. Such a sight suggested a laid-back musical camaraderie likely shared by all four. Turns out I was right about the musical camaraderie, but the laid-back part wasn't necessarily so.
The music on Greene Street is fairly rockish, though rock and roll it ain't. Guitarist Brad Hammonds writes and plays what he calls "world folk-rock," and if such a term doesn't sound quite specific enough to be a category of its own, there's no doubting that Hammonds is a deftly skilled player with a touch that can go from sensitive to sizzling. Thus categorization is of no consequence when he and his bandmates play.
Entirely instrumental, Greene Street put me in mind of any number of musical strains: a little bluegrass here, a bit of Celtic there; some jazzed-up flamenco for listening or dancing pleasure; an interlude with shades of acoustic Led Zeppelin or a groove that wouldn't be out of place on the streets of Rio. Such experimenting can come out sounding like a mess, though Hammonds and company keep it clean, tight and engaging. And despite my earlier assertion, they do know how and when to keep it mellow. If there's a problem, it's that the disc, clocking in at a shade under 30 minutes, is too short.
The music is plentifully good and could certainly afford to be, well, more plentiful, perhaps stretching out with a higher volume of solos and interplay. Still, an adventurous and satisfying work, well worth checking out.
Buy Greene Street
Author:
Tom Orr
Tom Orr is a California-based writer whose talent and mental stability are of an equally questionable nature. His hobbies include ignoring trends, striking dramatic poses in front of his ever-tolerant wife and watching helplessly as his kids surpass him in all desirable traits.