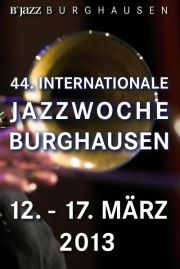 Coinciding with the 44th Burghausen International Jazz Festival that will be held from March 12 to 17, 2013, the town's jazz association, Interessengemeinschaft Jazz Burghausen e.V. , in cooperation with the town of Burghausen, invites for the submission of entries to the 5th European Young Artists' Award Burghausen 2013.
With 15.000EUR price money this award is one of the highest in Europe and is awarded annually. It has been created to actively promote promising young artists. the deadline for applications is September 14th, 2012.
Target Group
Combos of three or more musicians and big bands based in Europe. Participants must not be older than 30 years (b. 1983 and after).
Style
All varieties of jazz will be admitted.
Prize money
The award is endowed with prize money of € 15,000,which consists of a€ 5,000 cash prize and € 10,000 in promotions tailored to the respective band's requirements, be it the production and distribution of a CD or a made-to-measure promotion or coaching package.
The Interessengemeinschaft Jazz Burghausen e.V. reserves the right to monitor a project's profitability – proof of expenditure is necessary for reimbursement.
Selection Procedure
In a blind selection procedure, the jury will select five formations to compete in the final contest. The names of the five selected formations will be published in December 2012.
The final contest will take place on the eve of the 44th International Jazz Festival, March 12, 2013, in the framework of an open concert.
Each of the five finalists is required to perform a 20-minute live act.
After retiring for deliberation, the jury will announce the winner. The winner will have the opportunity to play the opening act at the Festival's first concert on the following day. The IG Jazz association will not be liable to pay any fees in this process, neither for the concert itself nor for its recording by TV and radio stations. However, IG Jazz will reimburse travel expenses of up to 500,– Euros per band as well as accommodation and food costs.
Jury
Prof. Joe Viera, Management. Artistic director of the International Jazz Festival Burghausen. Director of the Center for Contemporary Music, Burghausen.
Roland Spiegel. Editor for jazz and classical music at Bayerischer Rundfunk broadcasting corporation, Munich.
Ralf Dombrowski. Journalist and music critic (Süddeutsche Zeitung, Bayerischer Rundfunk, Jazz thing, Jazzzeitung and others), and author.
Reinhard Köchl. Music journalist (Jazz thing, Jazzthetik, Augsburger Allgemeine and others), cultural pr and author
Application on Deadline
The closing date for applications is September 14, 2012. Only applications which have been completed in full and have been received by the above-mentioned date will be considered.
Application documents
To apply, please submit the following documents:
• Application form completed in full.
• Six identical CDs with pieces of your choice.
• Running time: approx. 15 min., 25 min. max.
• Please note: The CD cover has to be neutral, i.e. no labels or other markings such as address, band name, etc. are allowed.
• Brief written presentation of the band (biography, description of the music, etc.), two pages max.
• Photograph of the band
Please note: The line-up information submitted with the application documents is binding and must be identical with the line-up playing in the final elimination stage.
Organizersw will confirm receipt of your complete application via e-mail. Only ensembles with complete application documents will be admitted to the competition. It is not possible, for organizational reasons, to return the documents submitted.
Contact information
Interessengemeinschaft Jazz Burghausen e.V.
Kanzelmüllerstr. 94
D-84489 Burghausen
Germany
ph.: +49 8677 916463-0
e-mail: info@b-jazz.com
www.b-jazz.com
The application form can be requested from the above-mentioned jazz association. It is also available as a download at www.b-jazz.com.
Author:
World Music Central News Department
World music news from the editors at World Music Central