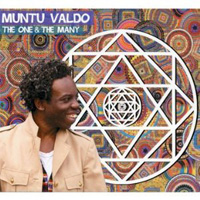 Muntu Valdo
The One & The Many (Warner Jazz, 2011)
Fans looking for a jazzy take on world music should look no further than Muntu Valdo's The One & The Many. Back for another pass from his 2005 release Gods & Devils, Mr. Valdo, a Sawa of Cameroon, is indeed back with his ingenious version of the Sawa blues. Sharply worked and cleverly crafted, Mr. Valdo makes the most of his guitar and harmonica sound, surrounding it with a sizzling swirl of loops and catchy percussion. Mr. Valdo's music and vocals float in on a West African breezy coolness that is fluid and seductive.
Opening with the sultry "Ate Aye," Mr. Valdo's guitar work and vocals sails in on a sound that seems to ride that soothes the senses. Tracks like "Lemba" and "Miengu" capture that bright and breezy West African feel with opening dashes of environmental sounds that add some flavor.
The silky and sultry vocals on "Ma Ding Wa" against a heavily percussive composition make this a stand out track, just as the guitar and vocals of the fiery "Musseing" work with its driving rhythms and flashes of harmonica. Other treats on the One & The Many include the plucky, bluesy number "Timba," the spare, elegantly crafted "Djongo" and the dazzlingly "Ngombi Na Nganga."
Mr. Valdo's clever flair, playing with the essence of both the spare and the intricate, make The One & The Many a true treat to discover.
Author:
TJ Nelson
TJ Nelson is a regular CD reviewer and editor at World Music Central. She is also a fiction writer. Check out her latest book, Chasing Athena's Shadow.
Set in Pineboro, North Carolina, Chasing Athena's Shadow follows the adventures of Grace, an adult literacy teacher, as she seeks to solve a long forgotten family mystery. Her charmingly dysfunctional family is of little help in her quest. Along with her best friends, an attractive Mexican teacher and an amiable gay chef, Grace must find the one fading memory that holds the key to why Grace's great-grandmother, Athena, shot her husband on the courthouse steps in 1931.
Traversing the line between the Old South and New South, Grace will have to dig into the past to uncover Athena's true crime.