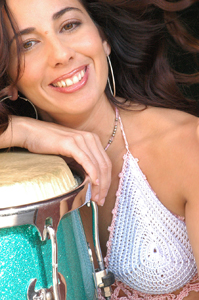 Melena Francis Valdés is a prominent Latin percussionist and orchestra leader, who is deeply influenced by folkloric Afro-Cuban drumming.
Melena recently relocated from Los Angeles (California) to Virginia. In Los Angeles she would sit in with the conga legend, Poncho Sanchez. She also produced Latin drum clinics and Latin Jazz/salsa band events.
I spoke with Melena about her roots and Afro Cuban drumming studies.
Melena, can you tell me where you were born and raised?
I was born in La Habana, Cuba in the barrio of Marianao. I left Cuba with my mom and older brother at the young age of 4 and a half and was raised in Los Angeles, California.
What inspired you to play Latin music and especially Latin percussion drumming?
As a young child I heard the sounds of Cuban rhythms every day in my barrio of Coco Solo, Marianao where it is very well known for its richness in Afro/Cuban Folklore. My mom believes I brought these memories with me when we left Cuba, because they are still alive in my spirit when I play the drums, the language of my soul.
I loved drums all of my life and it was always my favorite instrument growing up. I started on drum set during high school and then started taking lessons with Luis Conte.
As a young adult, I was passionate about knowing more about my culture and myself. When I transitioned from drum set to Latin percussion, I started to learn about myself. The more I learned about the history of Cuban music, the more I learned about myself.
I just finished performing a play in Petersburg, Virginia at the Sycamore Rouge Theatre where I was able to perform my life story on stage through the music. I don't know of any greater gift that God could have blessed me with. I not only performed in the play but it was my first production as music/artistic director, and choreographer. It was also the first Latino production at the Sycamore Rouge Theatre. The play's theme is that you cannot cut the roots of the sacred tree, La Ceiba. I identify with La Ceiba, in that although I left Cuba as a young child, Cuba never left me because it is expressed through my hands when I touch the skin of the drums.
Who were your instructors along the way who showed you how to play batá drums?
As I mentioned earlier, Luis Conte was my first mentor. After a few years of studying with him, I was able to return back home for the first time to study with the Conjunto Foklórico Nacional de Cuba.
I studied with Mario Jáuregui, Regino Jiménez, Lázaro Ros, and Margarita Uguarte. Soon after, Papo Conga, a very talented percussionist, composer, vocalist and dancer was the first to hire me… first on congas and then later on timbales.
Playing in Papo's band allowed me to learn the Latin jazz standards and various styles of Latin music. I returned back home to Cuba several times to continue my studies with Miguel "Angá" Diaz, Roberto Vizcaino Guillot, Yaroldy Abreu, José Miguel Meléndez, and batás with Cristobal Larraninga and Daniel Alfonso Herrera.
Cuban music is so rich in culture and the drumming in Cuba has been preserved for years. If you had one timbalero, one conguero and one bongocero as a favorite, who would that be?
This is a very deep question, because there are so many players that I look up to and admire for their tremendous contributions to Latin music. Not just our legendary masters, but also the new generation players. I don't think that I would be able to name just one. Here are a few of my top inspirational players: Endel Dueño, Orestes Vilato, Changuito, Tata Guines, Los Papines, Miguel "Anga" Diaz, Giovanni Hidalgo, Roberto Roena, Lil' Ray Romero, Marvin Diz, and more.
What is your all time famous Latin Mambo/Salsa or Cuban band/orchestra?
Irakere, Los Van Van, NG La Banda, Manolito Simonet y Su Trabuco, Ritmo Oriental, The Fania All Stars, Batacumbele and the Afro/Cuban All Stars.
If you had a chance today to perform with an artist, who would it be?
Santana.
Besides practicing, do you still study drums/drumming?
I continue to still grow and work on my craft every day. I believe studying is for a lifetime. I don't play drum set anymore, but I continue to study/practice drum rudiments as well as reading music. I also try my best to balance my study time between all of the Cuban percussion instruments, which is challenging because they are all so different and require a different attention/focus.
Can you tell us a little about your life, family, children or husband/boyfriend?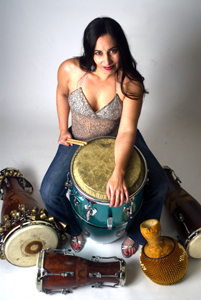 I was born in Cuba, raised in L.A. I have loved drums and music all of my life. Family is very important to me and the most beautiful gift God gave me was the talent to play music and be able to share it with the world.
I believe that if God gave you a gift, it's your responsibility to use it. I have recently married and relocated to the East Coast.
I continue performing in both the East and West Coast, allowing me to spend time with my family. My husband is also my manager.
What does the future hold for you?
My dream is to continue performing live with my band worldwide. I also love to teach, especially children and plan to continue as a music educator teaching private lessons as well as workshops and master classes both nationally and internationally.
In regards to the evolution of Latin music, where it started and where it is now, how do you feel Latin music is evolving, and where will it end up?
The evolution of Cuban music is so beautiful and amazing. There are so many styles that have developed and continue to develop throughout the years. Latin music will always be evolving, and I especially love how it is being fused with so many elements such as jazz, funk, R&B, pop, soul, Indian, etc.
I think that Latin music is very popular right now and will only grow in its popularity, especially because of its complex yet enticing rhythms that can make anyone get up from their seat and start dancing.
I also believe there are many more women instrumentalists, especially on percussion, and will only be more in the years to come.
I produced a calendar this past year 2012 dedicated to the New Generation Latina Percussionists, which demonstrates how we are growing. This calendar is available through my website: www.melena.com.

Can you comment on tours, future gigs, travel and recordings coming up?
I have several concerts with my band during the next several months. One concert in particular that I look forward to is this December 2012 at Fiestas Patronales in Miami. I will be performing with an All Star Band, which includes, Chino Núñez, Larry Harlow, Mario Ortiz Jr., Ray de la Paz, Herman Olivera and more.
I will also be one of the four featured in the Salsa Divas concert. So far, the three-featured Salsa Divas confirmed will be Yoko "La Japonesa Salsera", Melina Almodovar, and myself. This is going to be a true honor to perform and play some of my original music along some great legendary players. I plan within the next year to release a Latin jazz CD, as well as an Afro Cuban Salsa CD!
For more information on Melena visit:
Website – www.Melena.com
Facebook – Melena La Rumbera
YouTube – MelenaRumbera
For bookings, call 804-399-8760 or send an e-mail inquiry to ritmocar@aol.com
Author:
Les Moncada
Les Moncada is a Latin Jazz orchestra leader and conguero for over 40 years. He was born in Oakland, California and currently resides in Sacramento, California.
Les Moncada is a student of conga and batá master Francisco Aguabella, a friend of the late promoter Bill Graham, vibraphonist Cal Tjader, Latin Jazz band leader Pete Escovedo, conguero Mongo Santamaria and many, many more.
He has been writing for many years for World Music Central.
Les has several Facebook sites: Timbales and Congas Bongo Bata & bells; Conguero, Professional Conguero & their Instrument; Bongocero, Professional Bongocero their Instrument; Alambres Dulces, Tres, Cuatro & Laud