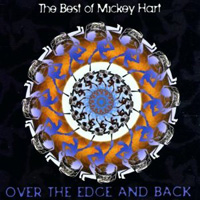 Mickey Hart
The Best of Mickey Hart: Over the Edge and Back (Rykodisc)
Mickey Hart, drummer along with Bill Kreutzmann for the Grateful Dead, is a celebrated percussionist and composer in his own right, with a string of drum-flavored albums. Nine of his best tracks from the last two decades are included in this composition, including our favorite "Sweet Sixteen" which also features Zakir Hussain on tabla.
The album lasts only 45 minutes, though, and could have packed much more. The album concludes with the previously unreleased "Call to All Nations" from the opening ceremonies of the 100th Olympiad in Atlanta in 1996. A percussive romp with drummers from around the world, this album is a must-have for percussion fans.
Buy The Best of Mickey Hart: Over the Edge and Back
Author:
Madanmohan Rao
Madanmohan Rao is an author and media consultant from Bangalore, and global correspondent for world music and jazz for World Music Central and Jazzuality. He has written over 15 books on media, management and culture, and is research director for YourStory Media. Madan was formerly World Music Editor at Rave magazine and RJ at WorldSpace, and can be followed on Twitter at @MadanRao.