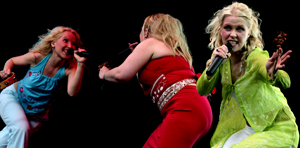 WOMEX announced today that the band Värttinä from Finland is the winner of the WOMEX 2012 Artist Award. Värttinä will perform on Sunday morning, October 21st 2012, during the WOMEX Award Ceremony accompanied by a WOMEX Networking Breakfast, both open to WOMEX delegates only. The laudation will be offered by
Fiona Talkington (UK), BBC Radio Presenter, Curator.
The history of Värttinä goes back just about 30 years ago to a small town in Karelia, in Eastern Finland, where a mother taught her young daughters ancient Karelian poetry and songs to the accompaniment of the zither-like kantele. Soon they were joined by other local children bringing their own collection of musical instruments and ideas, including accordions, saxophones, guitars, bass, fiddles and flutes.
What had started as a goal merely to revive ancient traditions collected energy and these songs and poems developed a new life in the hands of incredibly talented and imaginative young people. A few years later, these young musicians had a national reputation and were named Band of the Year at the prestigious Kaustinen Folk Festival, the first of what was to turn out to be a whole list of awards and accolades.
Värttinä took the world by storm. They had become a band of outstanding instrumentalists, composers and arrangers fronted by three singers who fascinated audiences with their enthralling harmonies and mesmerizing voices.
The band became one of Finland's greatest global ambassadors, playing at thousands of festivals and venues around the world, building a large fan base, inspiring audiences, other musicians, directors and producers, including AR Rahman with whom they worked on music for the stage version of The Lord of the Rings.
Värttinä have released 14 albums, received awards for Best Album in different countries.
The current line-up includes Mari Kaasinen on vocals, Susan Aho on vocals, Johanna Virtanen on vocals, Hannu Rantanen on bass and Matti Kallio on accordion, keyboards.
Author:
World Music Central News Department
World music news from the editors at World Music Central