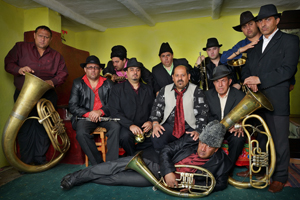 Fanfare Ciocarlia, the great brass orchestra from the village of Zece Prajini in northeastern Romania, is one of the world's most popular Gypsy bands. They were first presented to North American audiences in 2001 and 2003 as part of the hugely successful Gypsy Caravan Tour. Nine years later, the band returns for an eight-city tour in the United States and Canada, including concerts in New York, Toronto, Quebec City, Chicago, Pittsburgh, Durham and Minneapolis in September 2012.
"Fanfare Ciocarlia's wicked fast trumpets, tenor and baritone horns, tubas, clarinets, saxophones, bass drum and percussion from the Carpathian mountains are a sight and sound to behold," explains tour producer and New York Gypsy Festival founder Mehmet Dede. "This tour is way overdue for the beloved Gypsy brass band tradition."
Fanfare Ciocarlia is renowned for playing breakneck fast brass band music. In 2010 they had a fun competition with Serbia's Boban Markovic Orkestar to see who was faster with the tour and collaborative album Balkan Brass Battle.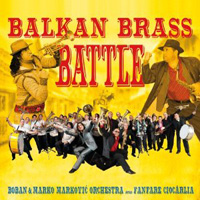 Their sound has been sampled and imitated by countless DJs, bands, and Gypsy orchestras. Their surprising reinterpretations of popular Western standards like the James Bond Theme and Duke Ellington's "Caravan" show how this Romanian orchestra can effortlessly put a Gypsy spin on any music they get their horns on.
"Sometimes when I tell people I come from Zece Prajini, they think I come from the end of the earth," says trumpeter Costic "Cimai" Trifan. "But here, at the end of the earth, is the right place to make music."
Their repertoire includes traditional dances from Romania and rhythms from Turkey, Bulgaria, and Macedonia, with the addition of modern and pop elements.
Fanfare Ciocarlia has won the prestigious BBC-3 Planet Award in the European category. Many of their eight albums have topped the European World Music charts, and they have played a marathon number of shows, with more than 1,200 concerts in fifteen years.
Fanfare Ciocarlia, 2012 North American Tour Full Tour Schedule
09/19/2012, Wed
Le Cercle
Quebec City, QC
Canada
228 St-Joseph Est
Tickets: $23,
Phone: 418.948.8648
09/20/2012, Thu
Rialto Theatre (PopMontreal)
Montreal, QC
Canada
09/21/2012, Fri
The Hoxton
Toronto, ON
Canada
69 Bathurst St
Phone: 416.456.7321
09/22/2012, Sat
New York, NY
Schimmel Center for the Arts (PACE University)
3 Spruce Street
Tickets: $35, Show: 7:30 pm
Phone: 212.346.1715
09/23/2012, Sun
Duke Performances in Duke Gardens (Duke University)
Durham, NC
114 South Buchanan Street
Tickets: $18/$10 students, Show: 6:00 pm
Phone: 919.684.4444
09/24/2012, Mon
Brillo Box
Pittsburgh, PA
4104 Penn Avenue
Phone: 412.621.4900
09/25/2012, Tue
City Winery
Chicago, IL
1200 W Randolph St.
Tickets: $25-$18, Doors Open: 6:00 pm, Show: 8:00 pm
Phone: 312.733.WINE
09/26/2012, Wed
Cedar Cultural Center
Minneapolis, MN
416 Cedar Ave S
Phone: 612.338.2674
Author:
World Music Central News Department
World music news from the editors at World Music Central