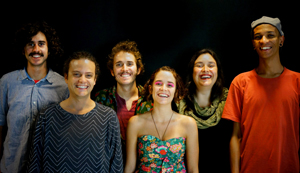 World Music Central reports that the Brazilian state of Minas Gerais has organized an offWOMEX Showcase that will take place on Saturday, October 20th at WOMEX 2012 in Thessaloniki (Greece). The Minas Gerais Night will feature Graveola e o lixo polifônico, Makely Ka and Thiago Delegado. The event is organized by Fórum da Música de Minas Gerais, Música Minas, and Governo de Minas.
Graveola e o lixo polifónico
Belo Horizonte-based Graveola e o lixo polifónico is a cross-cultural jam band that combines Brazilian roots music with rock and global music. The line up includes Bruno de Oliveira (bass), Flora Lopes (percussion), José Luis Braga cavaquinho / voice), Juliana Perdigão (sax, flute and clarinet), Luisa Rabello (keyboards), Luiz Gabriel Lopes (guitar / voice) and Yuri Vellasco (drums).
Makely Ka
Makely Ka is a poet and songwriter representative of the new musical movement from Minas Gerais. In his work he blends northeastern rhythms, sophisticated harmonies and inspired melodies combined with the acoustic sounds of string instruments.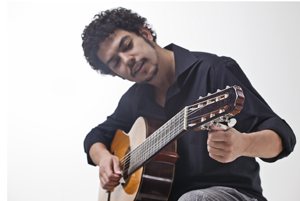 Thiago Delegado
Thiago Delegado (Brazil) is an award-winning guitarist, producer, session musician and composer. His style blends Brazilian music with jazz elements. His first album "Serra do Corral" released in October 2010 won the "Marco Antonio Araujo" prize, being named best instrumental album of Minas Gerais in 2010.
WOMEX is the largest annual world music conference and showcase. The 2012 edition will take place in Thessaloniki, Greece, from Wednesday, October 17th to Sunday, October 21st.
Author:
World Music Central News Department
World music news from the editors at World Music Central