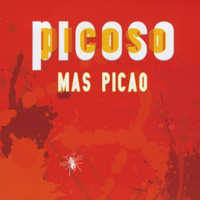 Picoso (Mad Latin Flavor)
Mas Picao (Independent release from Seattle)
Any band that gets a park full of picnickers and music fans dancing during the opening of their first song deserves a shout out. Seattle-based Afro-Latin band Picoso, which translates to "mad Latin flavor", brought their punchy horns, Afro-poly rhythms, and rousing vocals to Boulevard Park in Bellingham, Washington, and the dancers went mad with their own Latin flavor. Described as "urban" and "very street," (Seattle Sound Magazine) Picoso mixes salsa, son, reggaeton and other Caribbean genres on their CD Mas Picao.
This recording features Samantha Boshnack on trumpet, but live, a woman trombone player joined her, filling out the band's horn section. I only mention this because I've never seen women horn players in an Afro-Cuban band prior to this event. Puerto Rican bandleader/percussionist/vocalist Alfonso Gonzalez sings with gusto so I could see why backed by a watertight rhythm section, horns, bass, and tres (3-string Cuban lute), he enticed the crowd to get off their butts and dance. And at the outdoor concert no alcohol was allowed, so the music alone excited the dancers into frenzy.
Mas Picao opens with the flavorful morsel, Descarga. Polo Polo follows and this song holds the body hostage begging it to give itself to the dance. The Latin music hybrid Esperame sounds like a hodgepodge of cha-cha-cha, mambo, and Arab-Andalusian melodies. It snakes along at a slower tempo than other songs on the CD and I could see Tom Waits giving this song a send-up with Marc Ribot on guitar. If only.
Gran Sensacion falls into the rustico son genre spiced up with Latin jazz. I already think KEXP's Darek Mazzone has already tagged this group with a tasty descriptor. However, I can best describe Picoso as the musical place where Latin urban culture meets the rustic music of Cuba's Oriente Mountains.
Buy Mas Picao
More information about the band at picoso.net
Author:
PatriciaHerlevi
Patricia Herlevi is a former music journalist turned music researcher. She is especially interested in raising music consciousness. She is looking for an agent and publisher for her book Whole Music (Soul Food for the Mind Body Spirit). She founded and hosts the blog
The Whole Music Experience and has contributed to World Music Central since 2003.