Every year, the Rainforest World Music Festival offers a post festival tour for Malaysian and international journalists. This year it was a trip to Tanjung Datu National Park.
Early in the morning, on July 16th, Eric Yap, our guide from Diethelm Travel picked us up at One Hotel Santubong. We had a two hour bus ride, heading west, along the northern coast of Borneo. Our group included Nazrieman Bujang of Sarawak Tourism Board (Malaysia), Veronica Ng of Tune Studios (Malaysia), Dave Avran of Ascension Media and Frigglive (Malaysia), Adam Amirul of Gaya Travel Magazine (Malaysia), freelancer Annette Tuncel (Australia), Omar Tuncel of Yacht Turkiye (Turkey), Karen Farini of South East Asia Backpacker (UK), Singapore-based freelancer Michael Switow (Singapore), Drago Vovk of Radio Sraka (Slovenia), Syafiq Affendy of Borneo Bulletin (Brunei) and myself, representing World Music Central (USA).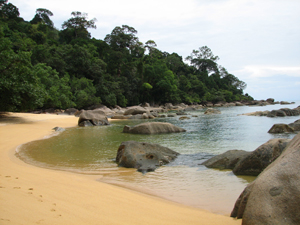 We arrived to the coastal town of Sematan, where some of us purchased flash lights, sun screen and mosquito repellent. In Sematan we split into two groups and boarded two speed boats. About an hour later, we arrived to Kampung Telok Melano, a traditional Malay village, where we had a delicious lunch, consisting of chicken, vegetables and fruit.
Our group had the opportunity to walk and see Telok Melano and learn about Malay society and its traditions. Although the village is accessible by land, the trip on land is much longer. Traveling by boat is much faster. Visitors can stay at various private homes in Telok Melano. Some locals rent rooms and tourists are offered the opportunity to live and eat with the family, experiencing life in a Malay fishing village.
The next stage was Tanjung Datu National Park. We boarded the two boats again and this time we had a shorter ride, about 10 minutes. Tanjung Datu is the smallest of Sarawak's National Parks, at only under 14 square kilometers. The park is located at the southwestern tip of Sarawak on the Datu Peninsula, "where Borneo begins" and where Malaysia meets Kalimantan (Indonesian Borneo).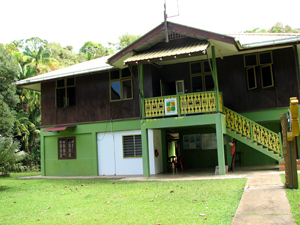 Remoteness is what makes Tanjung Datu special. This is a place to get away from fast-paced city stress, busy night scenes and dependence on mobile devices. The park only gets 3 hours of power daily from a generator and solar panels. That's why flashlights are a necessity. Visitors can stay at one of the guest rooms or sleep in a beach hut with mosquito netting.
In the afternoon, the group was given the opportunity to relax. I sat at a beach hut, reading a book, listening to the cool sounds of a gecko above and the nearby surf.
In the evening, our guide Eric Yap also showed his skills as chef by cooking dinner. He and his colleague Berek Sanias made a meal consisting of two varieties of chicken, including black pepper (Sarawak is a renowned producer of black and white pepper) chicken, and various types of veggies. Later, the park warden, Mr. Auby Illias, gave us a briefing about Tanjung Datu National Park and the activities available.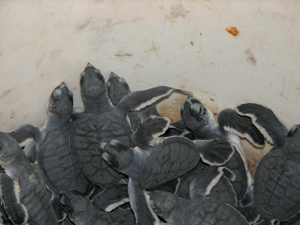 I woke up early on July 17th and took a walk along the beach. A few minutes later I saw a group of people led by park warden Auby Illias. They were carrying a bucket full of sea turtle hatchlings.
Sea turtles are greatly endangered due to their slow reproduction rate, along with over harvesting for meat and eggs as well as habitat devastation. Sea turtles are some of the world's longest lived animals, with many reaching a lifespan of more than 100 years. They are agile swimmers that spend most of their time underwater and have survived nearly unchanged since the Triassic period, about 200 million years ago. However, the breeding patterns that have helped them so well for so long are now contributing to their extinction.
Sea turtles develop slowly and only start to breed between 15 to 50 years of age. Females generally produce eggs once in every four or five years. Studies have shown that sea turtles essentially migrate back to their beach of birth, sometimes across distances of more than 3000 km. The peak seasons for sea turtles nesting spans from the month of May to September each year.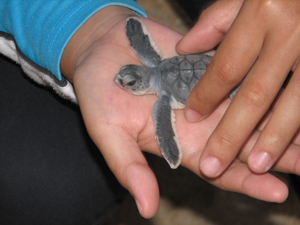 Sarawak Forestry runs a Sea Turtle Adoption Program in Borneo. The Sea Turtles Adoption Program is a conservation plan that allows volunteers to actively participate in turtle conservation efforts by spending four days at the turtle conservation station on Pulau Talang-Talang Besar.
The sea turtles we saw came from a hatchery located in Tanjung Datu National Park. The extremely endangered green turtles and Olive Ridley turtles regularly lay their eggs on the park's beaches. Consequently, a turtle hatchery was established. It is a fenced-off area close to the beach which is protected and monitored by park staff. Eggs from nests susceptible to predators such as wild boars, monitor lizards, snakes and ghost crabs are relocated to the hatchery to reduce the high levels of natural mortality.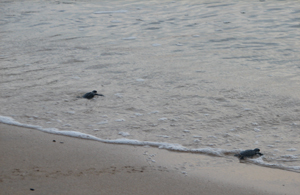 As soon as the turtles hatch, they are released. The hatchlings were placed on the sand on the beach. Park rangers and journalists remained there to make sure all the hatchling made it to the ocean. Turtles have an instinctive system that allows them to find the correct orientation. We called it their internal GPS. All the hatchlings eventually found their way to the ocean.
After breakfast, our group met with the park warden and another ranger to go into the jungle. The rainforest is a very humid place and you need to wear loose fitting clothes that allow perspiration, good hiking/walking shoes and carry sufficient water.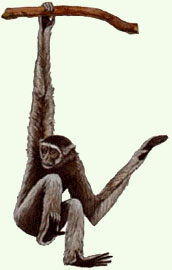 We walked for about half an hour, observing the flora and hearing animal sounds, but we didn't see any creatures. However, as we entered deeper into the jungle, we finally saw a group of fast moving Bornean gibbons (Hylobates muelleri), high above, jumping across the jungle canopy. The gibbons have a loud bubbling call, which have earned them their Malay name of 'wak-wak'. We also saw the rare rhinoceros hornbill fly by a couple of times. The rangers easily recognized it because of its sound. A little later we saw another group of primates. This time it was the banded langurs (also known as leaf monkeys).
Tired and sweaty, we returned to the camp along the beach. After another tasty lunch with more varieties of chicken and veggies, most members of our group went on a shorter trip to the westernmost tip of Borneo. I stayed with a smaller group and we took a short walk through the jungle to another beach, where coral reefs are found and snorkeling is available. During the short trek through the jungle I saw a large lizard that may have been a young monitor lizard.
In the evening we had another briefing and presentation about Sarawak Forestry's initiatives. This time, the presenter was Mr. Oswald Braken Tisen, Acting Deputy General Manager of Sarawak Forestry's Protected Areas and Biodiversity Conservation Division.
The following day, our group returned to Kuching, Sarawak's capital. Back in Kuching, and before heading to the airport, Syafiq Affendy, Michael Switow and I had an opportunity to eat the popular Sarawak laksa, the tasty traditional noodle dish found through Malaysian Borneo.
On behalf of World Music Central, I would like to thank our generous hosts in Sarawak, including the Rainforest World Music Festival, Sarawak Tourism Board, Sarawak Forestry and Tanjung Datu National Park. Special thanks to Mr. Dato Rashid Khan, Mr. Oswald Braken Tisen, Mr. Gustino Basuan, Ms. Catharina Tipong, Mr. Nazrieman Bujang, the staff and volunteers at the Rainforest World Music Festival media center, Ms. Elaine Tan, Mr. Eric Yap and the rest the staff at Diethelm Travel, my fellow travelers, and all the wonderful and kind people of Sarawak.

Related links:
Other Rainforest World Music Festival stories:
Author:
Angel Romero
Angel Romero y Ruiz has been writing about world music music for many years. He founded the websites worldmusiccentral.org and musicasdelmundo.com. Angel produced several TV specials for Metropolis (TVE) and co-produced "Musica NA", a music show for Televisión Española (TVE) in Spain that featured an eclectic mix of world music, fusion, electronica, new age and contemporary classical music. Angel also produced and remastered world music albums, compilations and boxed sets for Alula Records, Ellipsis Arts, Music of the World.