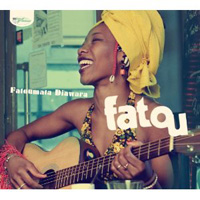 Fatoumata Diawara
Fatou (World Circuit/Nonesuch Records, 2012)
Kicking offer her debut recording on August 28th on the Nonesuch Records label, the Malian singer/songwriter Fatoumata Diarawa hits the music streets with a savagely stylish collection of songs that dip so elegantly into her ancestral homeland of Wassoulou.
After an acting stint that include appearances in "Taafe Fangan," "La Genese" and "Sia, The Dream of the Python," an escape to Paris, a blossoming musical career that had her playing in Parisian clubs and cafes before meeting Malian musician and producer Cheikh Tidiane Seck and work as a backing singer on Oumou Sangare's recordings Seya and Red Earth and finally a role in the musical Kirkou and Karaba, Ms. Diawara is setting off on her own musical path. Intimate and full of personal experiences, Fatou is achingly expressive look into an African woman coming into her own and her view of the world.
Writing all of the music on Fatou, Ms. Diawara doesn't shy away from difficult subjects like orphaned children, war, arranged marriage and female circumcision. Surrounded by guitar, the occasional ngoni or keyboards, electric guitar, bass, drums and percussion instruments like calabash and shaker, the soundscape of Fatou is deceptively spare, hinting at those hypnotic flashes that speak to Ms. Diawara's Malian roots.
There are no stand-out tracks, as all of Fatou is smart and savvy with a musical backdrop that's fresh with dashes of jazz, funk and pop woven into the Malian soundscape. Tracks like "Kanou," the vocally stunning "Sowa," the bright and catchy "Bakonoba" and the dizzyingly good "Makoun Oumou" are delicately vibrant and soulfully hip. Tracks like "Sonkolon" and "Bissa" are stunning, but Ms. Diawara really shines on "Wililé" with guest kora player Toumani Diabate.
Full of quiet drama and captivating vocals, Fatou takes the soulful, slow slide into the heart of a woman.
Buy Fatou in North America.
Buy Fatou in Europe
Author:
TJ Nelson
TJ Nelson is a regular CD reviewer and editor at World Music Central. She is also a fiction writer. Check out her latest book, Chasing Athena's Shadow.
Set in Pineboro, North Carolina, Chasing Athena's Shadow follows the adventures of Grace, an adult literacy teacher, as she seeks to solve a long forgotten family mystery. Her charmingly dysfunctional family is of little help in her quest. Along with her best friends, an attractive Mexican teacher and an amiable gay chef, Grace must find the one fading memory that holds the key to why Grace's great-grandmother, Athena, shot her husband on the courthouse steps in 1931.
Traversing the line between the Old South and New South, Grace will have to dig into the past to uncover Athena's true crime.