World music conference WOMEX announced that a special WOMEX Opening Concert will take place at Megaro on Wednesday, October 17th at 20:00. in Thessaloniki, Greece. My Sweet Canary – A Tribute to the Life of Legendary Singer Roza Eskenazi, will launch WOMEX 2012. Artists scheduled to perform include My Sweet Canary Ensemble (Greece/Turkey/Israel), Savina Yannatou & Primavera en Salonico (Greece), and Apsilies (Greece).
The special WOMEX Gala Edition, My Sweet Canary – A Tribute to the Life of Legendary Singer Roza Eskenazi, is presented by Wines of NorthGreece, Ergon – Greek Deli + Cuisine, and Queen Olgas Hotel.
Roza Eskenazi sang the way she lived: with passion, fire and love. She was the "queen of rembetiko" in the early 20th century, famous in Greece and Turkey – the first true "star" of rembetiko. She was born in Istanbul to a Sephardic family in the last years of the 19th century. During her early childhood they moved to Thessaloniki, still part of the Ottoman Empire but soon to be part of the Greek national state.
Roza's rise to fame began in the late 1920s, after she was discovered at a club in Piraeus by composer and director of Columbia Records in Greece, Panagiotis Toundas. At the height of her career, during the 1930s, Roza recorded 40 songs each year, in different musical styles (rembetiko, Greek and Turkish folk songs, island songs, etc.), and performed not only in Greece, but also in Turkey, Albania, Egypt and eventually, in the United States. She sang in Greek, Turkish, Armenian and Ladino.
Rembetiko, the "Greek blues", is a musical genre that lies at the crossroads of East and West, an apt reflection of the region into which it was born. It evolved from the music that the refugees from Asia Minor brought with them to Greece in the 1920s and first emerged in the hash-dens and prisons of the harbor cities of Thessaloniki and Piraeus. It went on to give voice to the misery of the victims of the great "population exchange" between what had become Turkey and Greece. It was part of an underground subculture, on the verge of legality, a strong Eastern-sounding contrast to the West-oriented music cafes where tango and waltzes were played for the bourgeoisie.
The original rembetiko started to decline after World War II, but even though that world has vanished, its reminiscent spirit lingers in the songs that are interpreted with great passion until today. An intriguing characteristic of the general song repertoire of that time is that successful songs were often adopted and adapted by the different ethnic groups and styles; and so you will find recordings of different versions of the same song in Turkish, Greek and Ladino.
Thessaloniki, a 2300-year old city with a fascinating multicultural past and present, has been the breeding ground not only for rembetiko, but also in recent years for many an independent artist
and has brought forth musicians with genuine individuality. It was the city in which Roza's career was born. That is why presenting the show during WOMEX 2012 is so fitting. By bringing WOMEX delegates the work of Rosa Eskenazi, as well as by presenting with fine examples of her musical heirs, it highlights this great city's tradition of combining its multicultural background with artistic refinement and independence.
My Sweet Canary Ensemble (Greece/Turkey/Israel)
The concert ensemble My Sweet Canary was founded in 2010 during the production of the documentary film of the same name, a musical and cinematic journey through the life and music of Roza Eskenazi,
directed and produced by Roy Sher (Israel). The original My Sweet Canary tribute concert to Roza Eskenazi was conceived as the musical climax of the film and was based on a very simple idea: gathering the modern Greek, Turkish and Jewish musicians featured in the film to present Roza Eskenazi's multicultural biography and repertoire in a spectacular show which took place in 2010.
The ensemble now consists of three singers from Greece, Turkey and Israel, accompanied by six acclaimed musicians from Greece and Turkey, who interpret a colorful program drawing on Roza
Eskenazi's repertoire in Greek and Turkish, as well as songs of her Sephardic background in Ladino.
Mehtap Demir was born in Ardahan, east Turkey. She sings all styles of Turkish maqam and folk music and also plays the kemane and gourd violins, baglama (saz), rebab and kemanche. She is a professor
of ethnomusicology at the University of Istanbul.
Yota Nega, considered to be one of the great "rembetiko" voices in Greece, was born and raised in Athens, where she started singing after finishing her high school studies, going on to win wide acclaim
for her 2003 recording debut. She has performed with the Estoudiantina Orchestra, Yorgos Dalaras, Glykeria, Eleni Vitali, and many others.
Mor Karbasi burst onto the global world music scene in 2008 with the release of her first album, The Beauty and the Sea and has continued to capture audiences internationally with her gorgeous, exceptional voice. Influenced by several cultures, though mainly by her Jewish heritage, she performs a predominantly Sephardic repertoire: from traditional Jewish songs to her own contemporary compositions.
The concert includes rare archive footage of Roza Eskenazi, as well as scenes taken from the documentary film.
Savina Yannatou & Primavera en Salonico (Greece)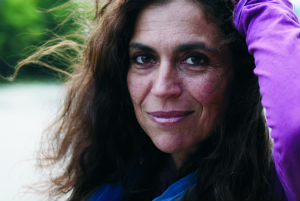 The group Primavera en Salonico got its name from their first collaboration with Savina Yannatou when recording the now classic album, Sephardic Folk Songs from Salonica, in 1994. Since then the singer and group have developed a unique and authentic sound, based on traditional material mainly from the Mediterranean and the Balkans; an open sound without borders or labels, from simple songs
extending to contemporary music forms.
Beyond her exquisite interpretive capacity Savina Yannatou gives special emphasis to the expression of the musicality of each language, using her voice as an integral instrument within the ensemble. Since then the singer and group have performed all over the world and received countless rave reviews, while their discography together includes seven CDs, of which three are on ECM records. A new ECM CD is in preparation.
Apsilies (Greece)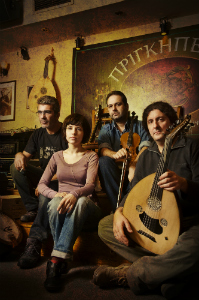 The group Apsilies formed spontaneously one afternoon during a strike at the university, when four musician friends and music professors found themselves hanging out together and decided to play the old songs for fun while they were waiting. They instantly found each other in the music and their natural, genuine and fresh approach has generated an overwhelming response at their concerts in Greece as well as acclaim for their first CD release.
The expertise and passion of each of the musicians, the exquisite voice of Theodora Athanasiou, the combination of the strong characters and variety of instruments result in a powerful experience of the old rembetika in modern times.
WOMEX 2012 will take place in Thessaloniki, Greece, from Wednesday,October 17 to Sunday, October 21 October – and will proclaim another round of encounters within the world music community.
Producers of My Sweet Canary film and concert: Roy Sher and Elpida Markianidou. More at mysweetcanary.com
Author:
World Music Central News Department
World music news from the editors at World Music Central