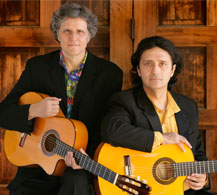 Strunz and Farah, one of the most attractive acoustic guitar duos in the United States, and contemporary Middle Eastern music innovators Niyaz are scheduled to perform at Grand Performances' WaterCourt stage in Downtown Los Angeles on Saturday, August 4, 2012 at 8:00 pm. Admission is free.
Niyaz, which means "yearning" in both Persian and Urdu, combines the folk traditions of India and Iran with trance-inducing electronic beats from Los Angeles' own Carmen Rizzo – all stimulated by the haunting and evocative voice of Azam Ali. Audiences are encouraged to dive into the hypnotic sounds of Sufi mysticism and electronica as this trio steps outside the recording studio and reunites for an infrequent live performance. Their discographyphy includes Niyaz (2005), Nine Heavens (2008), and Sumud (2012) as well as Azam Ali's solo albums Elysium for the Brave and From Night to the Edge of Day.
Latin America meets the Middle East through the acoustic guitar when Costa Rican Jorge Strunz and Iranian Ardeshir Farah return to the WaterCourt stage for the first time since enthralling audiences there in the early 1990s. Strunz & Farah perform Middle-Eastern influenced Flamenco and Latin guitar music over a foundation of Afro-Cuban percussion. Their most recent recordings include Fantaseo (2006), Jungle Guitars (2006), Journey Around The Sun (2011) and Jorge Strunz's solo album Neotropical Nocturnes (2010).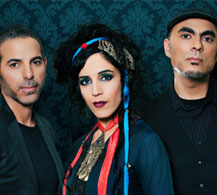 "Though both Strunz & Farah and Niyaz have solid roots in the Iranian musical tradition, each group has a distinct musical style not to be missed," says Grand Performances' executive director, Michael Alexander, "Expect an evening of sheer musical virtuosity and infectious beats from these two acts who remind us that no culture produces artists who perform with a singular voice."
"We are excited to support Grand Performances and applaud them for bringing the community together through art and music, an effort that is aligned with our mission," said Bita Milanian, executive director of Farhang Foundation, "We are especially thrilled to see the celebrated Iranian-American artists performing as part of their free concert series over the years and hope to see more artistic programs by Grand Performances that celebrate Iranian art and culture."
KCRW 89.9FM DJ Aaron Byrd will host the event, which is also part of the public radio station's 2012 Summer Nights Series. The evening is also supported in part by the James Irvine Foundation, CarbonLITE Industries, and Farhang Foundation. The concerts will take place on California Plaza's WaterCourt stage in Downtown Los Angeles.
California Plaza, the home site of Grand Performances, is part of the Grand Avenue Cultural Corridor just blocks from Disney Hall and home to the Museum of Contemporary Art. The California Plaza parking garage is accessible on Olive Street, between 1st and 4th streets (351 S. Olive Ave, Los Angeles, CA 90071; 213-687-2159; grandperformances.org/directions.html). Parking for events is $7.50 after 5:00pm (cash only).
For more information, visit www.grandperformances.org or call 213.687.2190.
Author:
World Music Central News Department
World music news from the editors at World Music Central