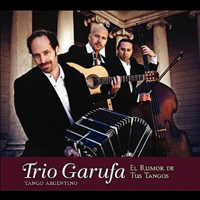 Trio Garufa
El Rumor de Tus Tangos (Garufa Records, 2012)
Curses! As I have no tango skills, I had to sit chair bound through a couple of listens to Trio Garufa's El Rumor de Tus Tangos. And, more's the pity because this sumptuous collection of tangos, milongas, chacareras and vals on this CD are utterly delicious.
With previous recordings Tango en el Mate and La Segunda Tradición to their credit, this US-based tango trio continues to build on a repertoire of Argentine tangos from the genre's golden age of the 1930s-1950s, electro-tangos, Nuevo tangos and Argentine folk music, as well as conjuring up their own tango creations. Formed by bandoneon player Adrian Jost, string bassist Sascha Jacobsen and guitarist and bombo player Guillermo Garcia, Trio Garufa has toured the US and Argentina, and has performed at such venues as the Chicago Symphony Hall and at the famed Yoshi's Jazz Club in Oakland, California.
Mr. Yost recalls one of the group's first Argentine performances, "On our first visit to Buenos Aires, we played Villa Malcolm, a social club that became central to the Tango scene in 1934 and where the best orchestras and singer used to perform. As we start playing the first Tango, the DJ jumps up and runs to his laptop thinking that he left the recording of the Orchestra D'Arienzo playing. To his surprise, he couldn't turn it off; it was us, just three musicians, playing the "Tango Paciencia" by D'Arienzo live. That felt like a good start!"
One listen to El Rumor de Tus Tangos and you'll fully grasp the stunning skills this trio represents. The fare on this recording is as rich as nice Argentine wine with tracks like "Malena" with its sweetly worked guitar, the sultry electro milonga "Milonga Uruguaya" and the acutely lovely Astor Piazolla composition "Oblivion."
Masterful and carefully crafted tracks like the "La Bordona" accented with sweeping strings or the gorgeously worked "Milonga de San Francisco" composed by Mr. Jacobsen make El Rumor de Tus Tangos a must for tango fans. The crisp instrumentation of tracks like "El Trunco" and "Gallo Ciego" are dazzlingly and dizzyingly good, but the true genius is the passion drawn out over the instruments that shine through to the listener from each track of El Rumor de Tus Tangos.
Mr. Jost puts the group's passion for the tango this way, "When we play a milonga, as soon as the set is over, in the 30 minute break between sets, we jump on the dance floor and dance as many tandas we can fit in. Not a great way to sell CDs, but always worth it for the soul. It's said Tango musicians can't dance, but we fare pretty well, having been caught in the addiction of dancing Tango five nights a week."
Listen to samples and buy MP3s: El Rumor de Tus Tangos
Buy CD from cdbaby.com
Author:
TJ Nelson
TJ Nelson is a regular CD reviewer and editor at World Music Central. She is also a fiction writer. Check out her latest book, Chasing Athena's Shadow.
Set in Pineboro, North Carolina, Chasing Athena's Shadow follows the adventures of Grace, an adult literacy teacher, as she seeks to solve a long forgotten family mystery. Her charmingly dysfunctional family is of little help in her quest. Along with her best friends, an attractive Mexican teacher and an amiable gay chef, Grace must find the one fading memory that holds the key to why Grace's great-grandmother, Athena, shot her husband on the courthouse steps in 1931.
Traversing the line between the Old South and New South, Grace will have to dig into the past to uncover Athena's true crime.