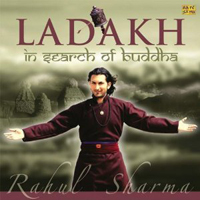 Rahul Sharma
In Search of Buddha (SaReGaMa)
Santoor virtuoso Rahul Sharma is on a roll, with this new age fusion of nature and spirituality blending Indian classical sounds with Buddhist mantras, folk and psychedelic backdrops. The youngest Indian musician to perform at WOMAD and the Edinburgh Festival, Rahul Sharma is certainly one of the more prolific young Indian artistes on the fusion and world music circuit.
Among the 8 tracks on this album, our picks include Wheel of Life, Books of the Dead, and Walking to Lamayaro Monastery. Rahul Sharma appears on vocals on some of these tracks as well.
We would also recommend his other recent releases: Mountain Trail, Maya, Samandar, Time Traveller and Music of the Himalayas.
Author:
Madanmohan Rao
Madanmohan Rao is an author and media consultant from Bangalore, and global correspondent for world music and jazz for World Music Central and Jazzuality. He has written over 15 books on media, management and culture, and is research director for YourStory Media. Madan was formerly World Music Editor at Rave magazine and RJ at WorldSpace, and can be followed on Twitter at @MadanRao.