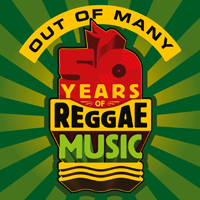 The Caribbean island nation of Jamaica will celebrate the 50th Anniversary of its Independence on August 6th, 2012. To celebrate the event, reggae label has put together a wide-ranging 3 CD set titled Out Of Many, 50 Years Of Reggae Music. The box set chronicles reggae's evolution with an iconic hit from each year since 1962.
This 3-disc anthology captures the quintessence of every period over the past five decades with 51 unique hits from artists including Lord Creator, Alton Ellis, Skatalites, Augustus Pablo, Dennis Brown, Culture, Eek-A-Mouse, Yellowman, Barrington Levy, Gregory Isaacs, Shabba Ranks, Chaka Demus & Pliers, Ninjaman, Beres Hammond, Lady Saw, Beenie Man, Sizzla, Sean Paul, Elephant Man, Tanya Stephens, Mavado, Gyptian and many more.
The chronological compendium includes detailed liner notes written by reggae historian Noel Hawks. He examines the innovation and evolution of the island's music, and how the iconic label VP Records – once Randy's Record Mart at 17 North Parade in Kingston, Jamaica – played a crucial role in the production and worldwide distribution of these sounds.
Out Of Many – 50 Years of Reggae Music Track Listing:
Disc 1
1. Independent Jamaica – Lord Creator (1962)
2. Blow Roland Blow – Joanne Gordon/ Roland Alphonso (1963)
3. Malcolm X – The Skatalites (1964)
4. Mouth A Massy – Alton Ellis (1965)
5. Take It Easy – Hopeton Lewis (1966)
6. Ba Ba Boom – The Jamaicans (1967)
7. Such Is Life – Lord Creator (1968)
8. Love The Reggay – Gaylads (1969)
9. Love Of The Common People – Nicky Thomas (1970)
10. Cherry Oh Baby – Eric Donaldson (1971)
11. Java – Augustus Pablo (1972)
12. Westbound Train – Dennis Brown (1973)
13. Everything I Own – Ken Boothe (1974)
14. Fade Away – Junior Byles (1975)
15. I'm Still In Love With You – Marcia Aiken (1876)
16. Two Sevens Clash – Culture (1977)
17. Smoking My Ganja – Capital Letters (1978)
18. We Got Love – Freddie McGregor (1979)
19. Ice Cream Love – Johnny Osbourne (1980)
Disc 2
20. Wah-Do-Dem – Eek-A- Mouse (1981)
21. Fattie Boom Boom – Ranking Dread (1982)
22. Zungguzungguzunggezeng – Yellowman (1983)
23. Here I Come – Barrington Levy (1984)
24. Under Me Sleng Teng – Wayne Smith (1985)
25. Hello Darling – Tippa Irie (1986)
26. Rumours – Gregory Isaacs (1987)
27. Telephone Love – JC Lodge (1988)
28. Twice My Age – Krystal & Shabba Ranks (1989)
29. Mr. Loverman – Shabba Ranks & Deborah Glasgow (1990)
30. The Going Is Rough – Home T, Cocoa Tea & Cutty Ranks ((1991)
31. Gal Wine – Chaka Demus & Pliers (1992)
32. The Return – Father & Son – Ninjaman & Ninja Ford (1993)
33. Under mi Sensi (94 Spliff) – Barrington Levy (1994)
34. Can't Stop A Man – Beres Hammond (1995)
35. Give Me The Reason – Lady Saw (1996)
Disc 3
36. Who Am I – Beenie Man (1997)
37. Heads High – Mr. Vegas (1998)
38. Can You Play Some More – Beres Hammond & Buju Banton (1999)
39. Down By The River – Morgan Heritage (2000)
40. Give It To Her – Tanto Metro & Devonte (2001)
41. Just One Of Those Days – Sizzla (2002)
42. Get Busy – Sean Paul (2003)
43. Pon De River Pon De Bank – Elephant Man (2004)
44. Living In Love – I Wayne (2005)
45. These Streets – Tanya Stephens (2006)
46. Weh Dem A Do – Mavado (2007)
47. Roots – Etana (2008)
48. I Feel Good – Beres Hammond (2009)
49. Hold You – Gyptian (2010)
50. Zungguzungguguzungguzeng (Horsepower Prod Remix) – Yellowman (2011)
51. Independent Jamaica (2012)- Peetah Morgan & Hollie Cook
Buy the boxed in North America: Out Of Many, 50 Years Of Reggae Music
Buy the boxed in Europe: Out Of Many, 50 Years Of Reggae Music
Author:
World Music Central News Department
World music news from the editors at World Music Central