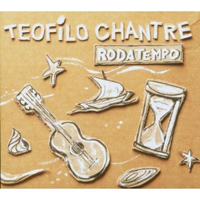 Téofilo Chantre
Rodatempo (Lusafrica, 2000): 12 tracks, 61 minutes
Téofilo Chantre is an accomplished composer, lyricist, guitar player and singer who emigrated with his family from Cape Verde in his early teens to settle in Paris, where he soon developed a reputation in the Cape Verdean diaspora as a songwriter and singer of traditional mornas and coladeiras – the local version of bittersweet sodade, or 'inconsolable nostalgia of homeland' (liner notes).
He wrote 3 of the songs included by Cesaria Evora in her hit album 'Miss Perfumado'. Rodatempo, his third album, is a gracious and attractive selection of his presumably recent work, often in collaboration with his father, a poet, and revealing his appealing fusion of musical influences – such as Brazilian bossa nova, and jazz – with Cape Verdean rhythms. His voice is described quite aptly as 'velvety', and weaves masterfully with the backing music (acoustic guitar, accordion, strings and percussion).
The overall impression is of lyrical gentility with wafts of 'elegant melancholy' and latent sensuality. The liner notes contain the lyrics, with helpful summaries in both French and English.
Listen to samples and buy the album in North America
Buy the album in Europe
Author:
William Bain
William Bain wrote these reviews while he was host of 'Chimes of Freedom' on CFFF/ Trent Radio (Peterborough, Ontario, Canada)