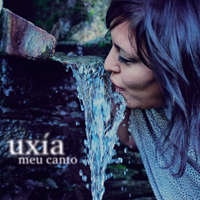 Uxia 's "Meu Canto" won the best album award in the Best Roots Music category by popular vote after being selected as finalist by a panel of nearly one hundred experts and professionals, chosen on a basis of diversity.
The awards ceremony, organized by Spain's UFI (Union of Independent music companies), was full of humor and good music. It was held at the Arteria Coliseum Theatre at Gran Via street in Madrid and was hosted by actor Arturo Valls.
The awards were created to recognize the work of independent labels and are an important tool for promotion, national and international communication in this sector, and commercial relations between Spanish-speaking countries; the guest country for this occasion was Argentina.
Backed by a musical career spanning over 25 years, Uxia picked up an award in addition to other accolades she has received this year for her album Meu Canto, as the Opinion award for best artist she received in May, and other highlights, including her listing in the European World Music Charts.
This is the transcription of the singer's acceptance speech:
"This is a year of many awards for Meu Canto and this last one, the Independent Music Award for best roots music album, is a very strong encouragement, as if the wind was blowing in our favor and pushing us to go to more ports, more stages, presenting this work recorded in Brazil and released by an independent label (Fol Música). The next ports are concerts in Galicia, Portugal, and the rest of Spain, for Artistas en Ruta, a tour sponsored by IEA, Brazil in November and more projects we're working on and that I'll let you know about soon.
This award is a way of recognizing the work of the independent label Fol Musica, an eager advocate of Galician music with a fascinating catalog. Besides, there were two other Galician bands in the same category and on the same label, Crebinsky and Talabarte, which makes me happy because this award gives visibility to projects and initiatives that are developed here in Galicia and strengthens the base of the cultural and musical Galician sector.
The first thing I felt was happiness for being chosen by a jury of specialists and the public itself, which makes this prize participatory and democratic. I want to share this award with everyone who collaborated on the album (Fred Martins, Socorro Lira, Jaime Alen, Lenine …) but especially with the "brasilician" Sergio Tannus, who did a brilliant job with the production and arrangements. It's an album that celebrates my 25 years in music, in which the voice plays the leading role, an album that celebrates the songs, the pure essence, where the music reveals our most pure an innocent self, free of artifice."
Listen to samples and buy MP3s of Meu Canto
Buy the CD.
Author:
World Music Central News Department
World music news from the editors at World Music Central