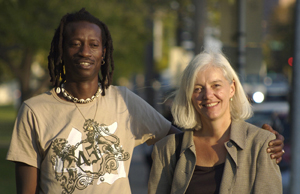 One of the enchanting musical collaborations showcased at the Førde Traditional and World Music Festival, held this year July 5-8 in Førde, Norway, is between artistes from Sweden, Senegal and Mexico! Since 1998, the interplay between Swedish Ellika Frisell on fiddle and Senegalese Solo Cissokho has opened up a new musical landscape. Now the duo have added Rafael Sida, a percussionist from Mexico, and the trio shows how talented people from different cultures can forge new relationships and musical experiences.
Ellika Frisell plays fiddle in the Bingsjø tradition, and has performed with the groups Filarfolket and Den Fule. Cissokho plays the kora, the African harp. He is a griot, or musical story-teller, who has lived in Norway since 1995. Ellika Frisell join us in this exclusive interview where she describes the formation of this unique trio, their musical highlights and plans for the Forde Festival.
What was the vision behind the founding of your music group?
Solo and I just met on stage and found out that we loved to play together. So there was no vision from the beginning, only happiness in the meeting. Later, after 10 years of playing and touring, we wanted to add percussion. Rafael is a fantastic percussionist, originally from Mexico, but he moved to Sweden in the 70s. In Mexico he played drums in rock and jazz groups. In Sweden he learned percussion and is now a very broad and experienced drummer and percussionist playing in a lot of different groups, mainly jazz and world music.

What is your message to your audiences?
Maybe that folk music is a language that makes it easy to play with each other wherever you come from. We like to concentrate on what we have in common rather than differences. It has to do with people, with musicians, rather than cultures.
Who would you say are the leading influences in your musical career?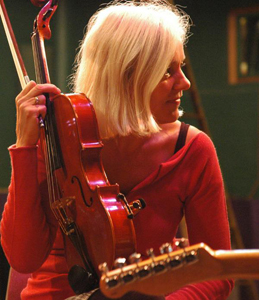 Our masters, old fiddlers; Solo's father, Rafael's father and family, and all good musicians that we meet and hear!

What music influences did your family have on you?
In my family, only classical music — but a lot of music and dancing valse (waltz) with my father meant a lot.
What can we expect to hear at your upcoming performance?
Old favourites of course and also a bunch of new tunes that we will record in December: almost a premiere for those tunes. There is always a mix between Solo's traditional tunes and mine, and also new compositions and some things that Rafael adds.
Tell us about the instruments you have in your ensemble.
Solo is playing Kora, the African harp. I play violin and viola, and Rafael cajon, bongos, djembe, and other percussion instruments. Solo sings a lot as well.
How do you blend different musical influences and genres?
We play our folk music and improvise around it. We do not try to blend with other genres but maybe sometimes you will hear influences.
How would you describe your musical journey?
Our first album was the meeting between Solo and myself, only like two traditional folk musicians. In the second album, we invited guests from Senegal and also from the US. The album we will record in December will be Ellika & Solo & Rafael, but mostly the same sort of tunes as always.
What is your vision of what music can do in this day and age?
Every thing that makes people meet and get to work together over borders is important. You meet as colleagues and you do not have problems with integration because you do what you are good at and are valued and appreciated at once.
What have been your previous highlights in playing across Europe?
The BBC prize and concerts in London, France, Cyprus, Greenland were fantastic; I should also add festivals in Italy and a wonderful tour to Rumania and more…. !

Do you also teach workshops for students and musicians?
Yes, we all do. I work half of my time at the Royal College of Music in Stockholm. We have a very interesting folk and world music institution there for over 35 years now. We also do a lot of workshops at schools together as a group and Solo plays a lot of school concerts in Norway.
What is the profile of some of the artists you perform with around the world?
In my case it can be jazz or folk music from different cultures. Solo and I have played with folk musicians all over the world but also with jazz guitarist Bill Frisell, and South Indian musicians Subramaniam and K. Shivakumar. Rafael performs with blues, jazz reggae, pop and other world music artists.
Author:
Madanmohan Rao
Madanmohan Rao is an author and media consultant from Bangalore, and global correspondent for world music and jazz for World Music Central and Jazzuality. He has written over 15 books on media, management and culture, and is research director for YourStory Media. Madan was formerly World Music Editor at Rave magazine and RJ at WorldSpace, and can be followed on Twitter at @MadanRao.